Boeing recently unveiled the 787 Dreamliner decorated with the R2-D2 characters from Star Wars in Washington, United States. This is one of the three planes belonging to Japanese carrier, ANA (All Nippon Airways), that will be themed on the popular movie series.
"Today the time has come to bring the ANA Star Wars project to life and we hope Star Wars fans across the world will be as excited about our R2-D2 ANA Jet as we are," said Hideki Kunugi, Senior Vice President, the Americas, ANA. "At ANA we're always looking for ways to improve the flying experience for our passengers, and what better way to start your trip to Asia than on a one-of-a-kind Star Wars plane?"
The R2-D2 design was first showcased at the Star Wars Celebration in California earlier this year. The next two planes to get the Star Wars livery will be the the Boeing 767-300 and the Boeing 777-300ER. While the latter will feature the BB-8 character from the upcoming Star Wars: The Force Awakens (scheduled for release in the United States on 18 December 2015), the former will get both the BB-8 and R2-D2 characters. The 767-300 will join the crew in November 2015 but the 777-300ER won't be seen flying before March 2016.
"The Boeing Company is truly honored that ANA has selected the new 787-9 Dreamliner to showcase this wonderful new livery," said Ihssane Mounir, Senior Vice President, Northeast Asia Sales and Marketing, Boeing Commercial Airplanes.
"Their commitment to the 787 is a testament to the market-leading efficiency and innovation of the Dreamliner. I am confident this latest addition to its large fleet of 787s, will help ANA maintain its position as one of the best airlines in the world."
The R2-D2 ANA Jet will hold its first official flight on October 18 from Tokyo to Vancouver. It will soon expand its coverage to several cities globally like Seattle, Munich, Paris, Sydney, Beijing and Jakarta. The R2-D2 motif appears in the cockpit and half of the jet's main fuselage and the Star Wars logo spreads across the length behind the wings. The interior will have the Star Wars theme on several instruments like the headrest covers, paper napkins and cups. Moreover, passengers will get to watch the six already released Star Wars films as part of ANA's in-flight entertainment system.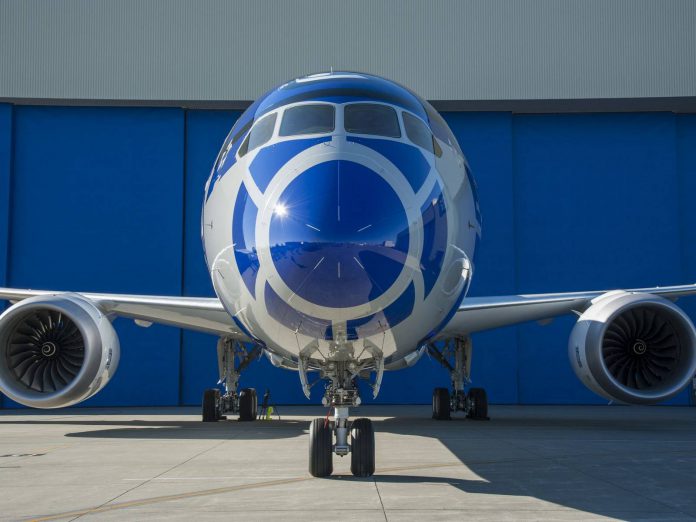 ANA has a five-year promotion license contract for the Star Wars brand with Walt Disney Japan. It was signed in April 2015 and the company hopes to attract more passengers with this project.