Alongside Mansory debuting its 1000 hp S63 AMG Coupe Black Edition at the IAA Frankfurt Motor Show 2015, the company has revealed its Black Edition for the Mercedes-Benz S63 AMG sedan. The car is essentially identical to the Black Edition S63 AMG Coupe but features a slightly different exterior design.
On an engine front, Mansory has taken the already impressive twin-turbocharged 5.5-litre V8 engine and extensively upgraded it. It has installed new connecting rods, big end bearings, crankshaft, bearing bushings, new turbochargers and a custom suction and compressor system. This results in a total of 1000 hp and 1400 Nm of torque between 1500 and 3500 rpm. The car can ultimately hit 100 km/h in just 3.2 seconds as well as a limited top speed of 300 km/h.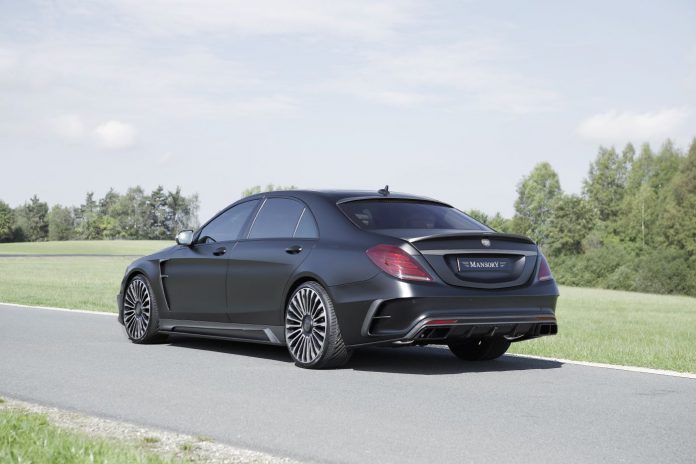 Visually, the car is rolling on a set of multispoke 22-inch Mansory alloy wheels wrapped in 255/30 and 295/25 rubber. New sports suspension has also been installed which drops the ride height by 30 mm to not only improve handling but also provide the car with improved handling.
Elsewhere, the Mansory Mercedes-Benz S63 AMG Black Edition features a completely bespoke body. It includes new front and rear fascias, extended side skirts, a bespoke rear diffuser and a subtle bootlid lip spoiler.
[showhide]
"BLACK EDITION –
MANSORY presents the Mercedes S Class Limousine AMG S63 as a special limited-edition model.
MANSORY is one of the premier addresses for the exclusive refinement of Mercedes vehicles. The company from Brand in Bavaria has proved this once more with the Mercedes S-Class Limousine AMG S63, and they now present the BLACK EDITION in a limited edition of 6.
Matt-black paintwork, refined with an abundance of carbon fibre, defines the look of the striking MANSORY bodywork. The components of the front with a new spoiler are tastefully coordinated, with adapted LED daytime running lights and a new bonnet.Together, they make the front of the MANSORY BLACK EDITION into a dynamic eye-catcher. The roof and rear lips are in perfect harmony with this, as well as the rear apron which is designed in a diffuser look. The sporty appearance is completed by the new side skirts, the front wings which have been subtly widened, as well as the carbon housing of the rear-view mirror. Almost all the bodywork components have been made at MANSORY using carbon fibre. These experienced specialists manufacture and process this ultra-light, extremely strong material in their own in-house autoclaves up to 6 metres long, which means they don't have to rely on external suppliers. This gives them complete freedom in the scope, fit and design of components.
The MANSORY sports exhaust for the BLACK EDITION delivers a throaty, imposing sound. The rear silencer, which is made from stainless steel with its angular twin tailpipes, perfectly integrates itself into the newly designed rear section. But MANSORY is much more than just a powerful sound. Also the performance has already been massively cranked up. To this end, MANSORY has completely reworked the AMG S63 eight cylinder twin turbo and installed genuine high performance components: connecting rods, big end bearings, crankshaft, bearing bushings, turbocharger, suction and compressor system, as well as many other parts replace the serial parts. Together with the newly conceived pipe fan manifolds this results in superb performance values. Instead of 585 hp (430 kW) the heavily modified S Class now achieves an impressive 1,000 hp (735 kW) while the maximum torque climbs to an electronically limited 1,400 Nm at 1,500 – 3,500 rpm. So when fired up the saloon rockets to 100 km/h in 3.2 seconds and only stops at an electronically regulated 300 km/h.
Striking 22 inch MANSORY alloy rims ensure excellent contact with the road. These also improve handling and considerably sharpen the look of the car. The mono-block cast "MULTISPOKE" wheels come fitted with Vredestein ULTRAC SESSANTA tyres, size 295/25/30ZR22 on the front and 255/30/ZR22 on the rear, guaranteeing great grip to the road. MANSORY have lowered the car's centre of gravity by a good 30 mm, which makes wheels sit even more squarely in the wheel arches.
Totally in keeping with the Mercedes traditional brand which in the interior places value on comfort, elegance but also sportiness, MANSORY offers fitting interior applications: Therefore aluminium pedals as well as the newly designed steering wheel give a sporty accent. The set of foot mats, which are framed in leather with embroidered MANSORY emblem, as well as the illuminated door sill trims, underline the elegant effect. On request MANSORY will individualise the complete interior in their in-house interior studio with leather, carbon, wood or other precious materials."
[/showhide]