Certainly one of Mansory's craziest creations for the IAA Frankfurt Motor Show 2015 is its insane 1000 hp Bentley Continental GTC. Arguably the most comprehensive aftermarket upgrade package available for the car, Mansory's creation provides true supercar-rivalling performance with class-leading luxury.
Mansory has worked on the range-topping Continental GTC with its twin-turbocharged 6.0-litre W12 engine. As standard, the car is certainly no slouch with 635 hp at 6000 rpm and 800 Nm of torque at a low 2000 rpm. Not satisified with those figures, Mansory set about installing new pistons and piston rods, camshaft, modified turbochargers, a new intercooler, sports air filters and revised engine and transmission management systems.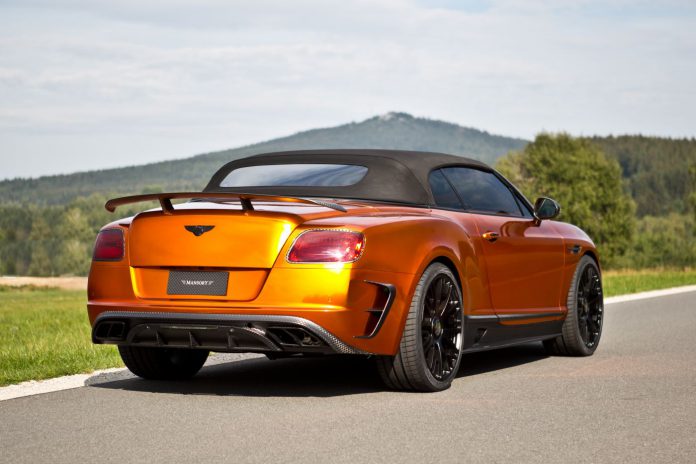 The results are a rather insane 1001 hp at 6000 rpm and 1200 Nm at just 2100 rpm. What all this extra oomph means is that the car can rocket to 100 km/h in just 3.9 seconds as well as a 330 km/h top speed.
Alongside being one of the most ferocious cars Mansory has unveiled at IAA 2015, the company's Bentley Continental GTC is also amongst its boldest. This initial display car is painted in a bright shade of burnt orange and has been fitted with a multitude of new visual and aerodynamic elements.
At the front, one finds a new carbon fibre splitter complemented with carbon fibre air intake surrounds, new grilles and black mesh for the air intakes. Additionally, slim LED daytime running lights are present as is a carbon bonnet with air extractors. A set of 22×10 inch wheels have also been fitted with Vredestien Ultrac Vorti R tyres that are 295/30. The rear is noteworthy for the prominent rear wing and rear diffuser.
[showhide]
"Elegant MANSORY refinement program for the Bentley GTC
MANSORY, the renowned expert when it comes to the refinement of super sports cars and luxury chassis, presents the Cabriolet Bentley GTC in a brand-new chassis design at the IAA 2015 in Frankfurt, Germany. Not only has the appearance been refreshed; on request, the engine can be fitted with a power upgrade by integrating a MANSORY turbo technology and increasing the power to an amazing 1,001 HP. Ultra-light, 22 inch aluminium wheels and an absolutely premium class interior complete the comprehensive redesign.
In addition to more power and a sharper appearance, the vehicle's weight, in particular, has been reduced. Every individual element of the aerodynamic design has been made in to a perfect surface finish using carbon fibre and incorporated beautifully into the car. The new front with a striking skirt and optimised air intakes to improve the ventilation of the front radiators is an absolute head-turner. Along with the new bonnet, MANSORY achieves not only an aggressive look, but also generates additional power. The carbon fibre coated A-pillar rounds off the MANSORY refinements to the front end. The new side skirts act as a visual link between the front and the rear wings. The refinement specialists have also come up with something special for the rear: MANSORY has mounted a powerful diffuser underneath the new rear spoiler. Together with the rear spoiler, it increases the car's downforce. MANSORY shows off its chassis design with orange effect-coloured paintwork that generates a unique depth effect.
The program also includes a mighty increase in power. Further components in the upgrade include a high-power exhaust system, new pistons and piston rods, camshaft, turbo-charger, intercooler, a new engine and transmission management system, and a sport air filter with the optimised air passage. The interplay of these components results in an output of about 1.001 HP/736 kW at 6,000 RPM (Standard: 635 HP/467 kW at 6,000 RPM). At the same time, the maximum torque rises to an impressive 1,200 Nm which is available at 2,100 RPM (Standard: 800 Nm at 2,000 RPM). After the modification, maximum speed is 330 km/h. Acceleration from 0 to 100 km/h only takes 3.9 seconds.
All the wheel arches on the MANSORY Bentley GTC are filled with exclusive 22 inch alloy wheels with the designation V6. The wheel/tyre combination is size 10 x 22 inch with Vredestein ULTRAC VORTI R tyres size 295/30ZR22. Thanks to the MANSORY suspension lowering system, the centre of gravity of the convertible is now 30 mm lower than the basic model, bringing the exclusive rims even more into their own.
As usual, MANSORY has converted the interior into a highly functional control centre with unsurpassed quality and innovative design. Only the most exquisite materials find their way into the car's interior, ensuring the greatest sense of comfort. The hand-crafted leather used is extremely resilient, but still tremendously soft. This characteristic natural product, with its very special grain and perfect craftsmanship of its stitching and embroidery, conveys extravagant flair all around the re-designed airbag sports steering wheel. MANSORY also displays a world's first with the dashboard panels and centre console, giving the surfaces a unique 3D structure by means of a new processing technique, rounding off the overall impression of luxury in the MANSORY Bentley GTC."
[/showhide]