The 2016 Ferrari 488 Spider is currently celebrating its world debut at the IAA Frankfurt Motor Show 2015. As the successor to the potent 458 Spider, it has a lot to live up to. With this is mind, we checked it out in the flesh.
Beneath the skin, the Ferrari 488 Spider is almost mechanically identical to the potent 488 GTB coupe. That means it features a brand new 3.9-litre twin-turbocharged V8 engine pumping out an impressive 662 hp, 100 hp more than the standard Ferrari 458 Spider. When combined with 760 Nm of torque at a low 3000 rpm, the 488 Spider will rocket to 100 km/h in just 3 seconds.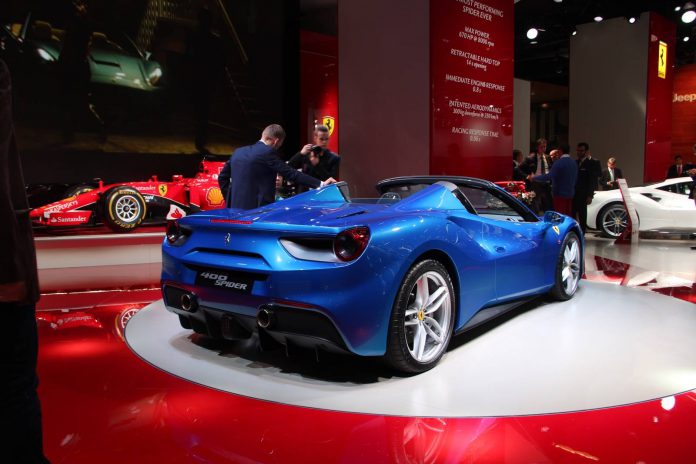 Like the 458 Spider, the Ferrari 488 Spider also features a folding hardtop which is actually 25 kg lighter and significantly stronger than a comparative soft-top. It also provides additional comfort for occupants and can deploy in a mere 14 seconds.
The Ferrari 488 Spider receives a blown rear spoiler as well as a new underbody utilising advanced vortex generators. The electric glass rear wind stop can be adjusted to one of three positions for a blend of comfort and sensation. The Spider's space frame chassis is constructed from 11 different aluminium alloys for a 23 per cent improvement in stiffness over that of its predecessor.
For more information about the 2016 Ferrari 488 Spider, see our previous post. For more from the IAA Frankfurt Motor Show 2015, check out our dedicated news channel.