The Bugatti Vision Gran Turismo has just been unveiled in the flesh at the IAA Frankfurt Motor Show 2015. Created exclusively for Gran Turismo 6, the Vision Gran Turismo from the French marque is one of numerous bespoke cars created for the racing simulator. It is however, one of just a handful to actually be built so we had to check it out.
As with other Vision GT cars, the Bugatti Vision Gran Turismo features a racing-inspired design and is quite different from the Veyron, yet still identifiable as a Bugatti. It is said that many of its design elements bare close similarities with the Veyron's successor, the Chiron.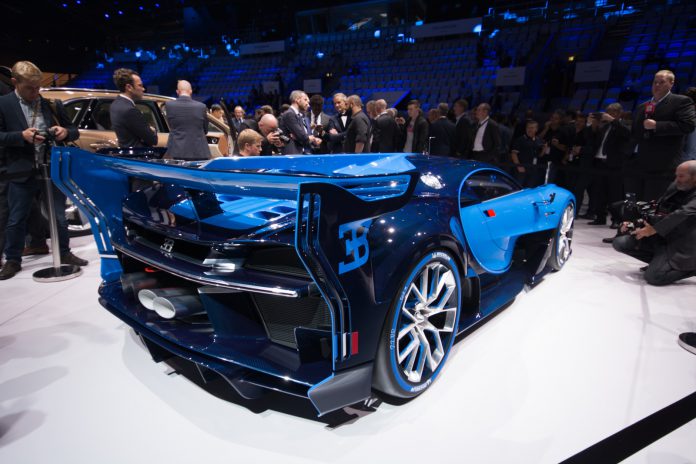 Some of the most eye-catching features include the prominent front splitter extending far out from the bumper. Also at the front fascia are quad canards, a typical Bugatti horseshoe grille as well as an exceptionally short bonnet. Other key visual and aerodynamic components include air extractors on the front wheel arches, eye-catching side skirts, a Le Mans inspired rear fin as well as a towering rear wing.
Discussing the car, the head of Bugatti Design Achim Ansheidt said "The Bugatti design team normally works only for the exclusive and very distinguished circle of the brand's customers. Now Bugatti Vision Gran Turismo has given us the opportunity, for the first time, to do something special for our fans as well. When the target group suddenly grows from 450 Veyron owners to several million fans, gamers and high performance aficionados, it is a very exciting matter. We had a lot of fun with this project."
For more about the Bugatti Vision Gran Turismo, see our previous post. For more from the IAA Frankfurt Motor Show 2015, see our dedicated news channel.