Alongside the number of other Brabus models debuting at the IAA Frankfurt Motor Show 2015 is the Brabus Mercedes-Benz GLE850 based around the new Mercedes SUV. As we've come to expect, it features a multitude of modifications and we checked it out up close.
To create the GLE850, Brabus has taken the standard 5.5-litre twin-turbocharged V8 engine and increased its displacement to 6.0-litres by boring out the cylinders and fitting larger forged pistons. Elsewhere, a new billet crankshaft has been installed with a stroke of 96 mm, while longer piston rods are also found within the engine. Additionally, thicker down pipes, a new exhaust system and ECU tweaks result in a total of 850 hp at 5400 rpm and 1450 Nm of torque between 2500 and 4500 rpm.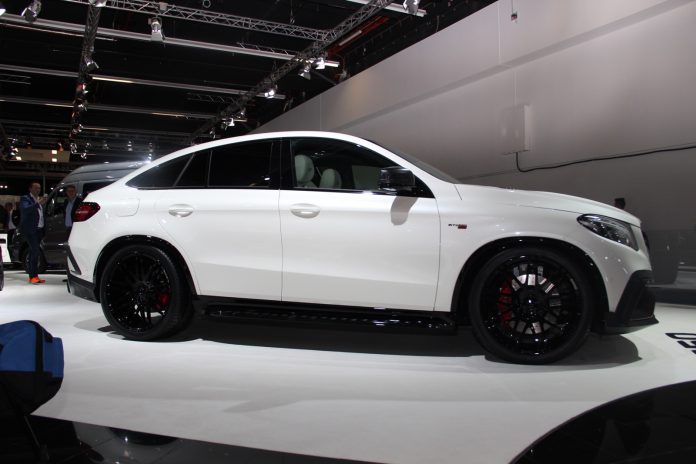 Despite the Brabus Mercedes-Benz GLE850 weighing a hefty 2350 kg, it will launch to 100 km/h in just 3.8 seconds as well as a 320 km/h top speed, limited electronically to save the tyres from exploding.
The car also features numerous visual and aerodynamic changes. For example, it is available with 21, 22 and 23 inch wheels with the most exclusive being the 23-inch Platinum Edition forged shoes wrapped in Continental, Pirelli or Yokohama rubber. Brabus has also developed a new control module for the air suspension system which drops the ride height by 35 mm.
Exterior wise, the Brabus GLE850 comes complete with a thoroughly revised front fascia with enlarged air intakes and a matte black bumper. The grille has also been changed while new side skirts have been fitted. Meanwhile at the rear is a new diffuser, new bumper as well as a small bootlid lip spoiler.
For more from the IAA Frankfurt Motor Show 2015, check out our dedicated news channel.