Lamborghini have released official details of the Lamborghini Huracán LP 610-4 Spyder ahead of its official unveil at the IAA Frankfurt Motor Show 2015 tomorrow. The specifications write themselves really, the Huracan goes topless but retains much of the platform we have now become used to.
In true Lamborghini tradition, the Huracan Spyder gains an electrohydraulic, lightweight soft top which takes just 17 seconds up to a driving speed of 50 km/h (31 mph). The hood is available in black, brown and red. The hood can be operated via a button on the central tunnel.
Underneath, it gets the naturally aspirated 5.2 litre V10 engine with 610 hp. Performance statistics include a 0-100 km/h time of just 3.4 seconds and a top speed 324 km/h (201 mph). It also features Lamborghini's 'Cylinder on demand' technology in combination with stop-and-start. The gearbox is the "Lamborghini Doppia Frizione" (LDF) 7-speed dual-clutch unit.
Two movable fins have been developed which rise out of the folding roof casing and start at the seatbacks continue the roof line to the rear. An integrated duct reduces turbulence in the headroom during open top driving. Two removable lateral wind guards dampen the lateral aerodynamic pulsations.
The chassis of the Huracán Spyder LP 610-4 combines aluminum components front and rear with extensive carbon fiber elements. The body panels are made from aluminum and torsional stiffness is improved by 40% over its Gallardo predecessor. Dry weight is just 1,542 kilograms (3,399 lbs), giving it a power-to-weight ratio of 2.53 kilograms (5.57 lbs) per hp. It weighs 120 kg more than it's Coupe counterpart.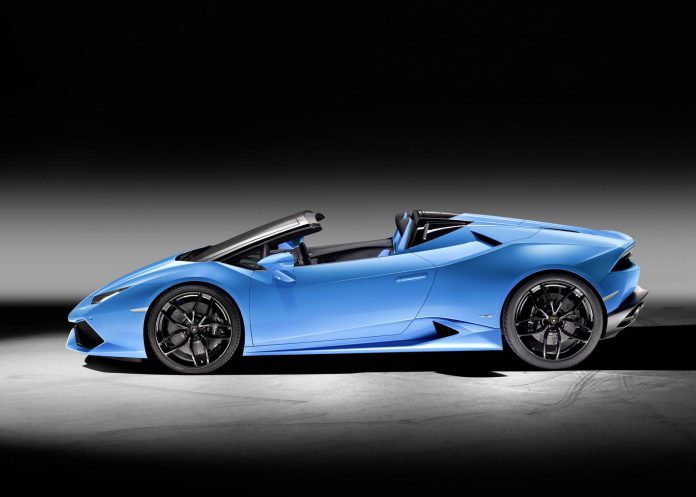 Inside, there is a 12.3-inch TFT display which can be configured in several modes to offers the driver all the key information. It can be extensively customised with Alcantara and fine nappa leather with five trim choices – Standard, Elegante, Sportivo with Alcantara, Sportivo bicolor with Alcantara and Sportivo bicolor with soft leather – as well as 17 interior colors and eleven external colors.
Customer deliveries begin in spring 2016 at a price of 186.450 Euros plus taxes. Stay tuned for more from the IAA Frankfurt Motor Show 2015!