Akrapovič has premiered its brand new Slip-On Line exhaust system for the always impressive Lamborghini Aventador. In a world where numerous tuners offers aftermarket exhausts for the Aventador, it is hard to stand out. Akrapovič's new system does just that however.
The new exhaust system is made entirely from precision-crafted and hi-grade titanium and Inconel. This makes the new hybrid titanium/inconel exhaust an incredible 13.8 kg lighter than the standard exhaust, that is a 46 per cent weight saving. Alongside the reduction in weight, it provides the howling Italian supercar with an additional 9.9 hp at 3100 rpm and 20.8 lb-ft torque at a low 2100 rpm.
One of the key developments of Akrapovič new Slip-On Line exhaust system is its inclusion of the company's Sound Kit. This means it features a remote which at the press of a button can open or close the exhaust valves to alter the sound. An app is also available in place of the remote for added ease.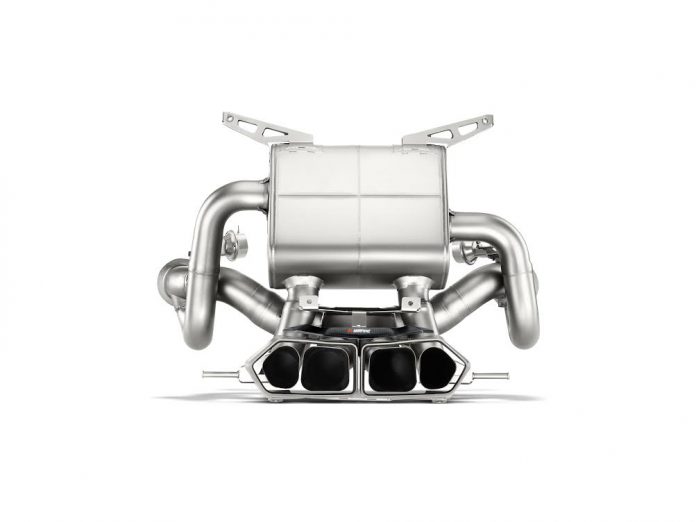 Helping to ensure the Slip-On Line exhaust is just as appealing to the eye as it is to the ear, the tailpipes are finishes in high-quality carbon fibre and titanium.
The most important aspect of any exhaust system is the sound it creates. Akrapovič is promising its potent Aventador exhaust will not only provide a deeper roar at low revs but as the revs rise, it will scream like no stock Aventador ever could. When combined with the Inconel link pipes, the supercar will sound even more exceptional!
The new Akrapovic exhaust system for the Lamborghini Aventador will celebrate its premiere at the IAA Frankfurt Motor Show 2015 on September 15th. More information is available at Akrapovic.com!