The Bugatti Vision Gran Turismo has been officially unveiled ahead of the IAA Frankfurt Motor Show 2015. It has been developed for the Gran Turismo Playstation franchise and is designed to make the Bugatti brand accessible to millions of gamers worldwide.
The example on display at Frankfurt is a real carbon-fibre racer developed especially for the Frankfurt Motor Show. It pays homage to Bugatti's racing tradition of the 1920s and 1930s, and its victories in the 24 Hours of Le Mans race. It has been developed in collaboration with Polyphony Digital and will form the pinnacle of cars available on the game.
Bugatti engineers were only bound by the safety regulations of the FIA in developing the vehicle. They were requested to keep the design within the realms of reality which means that the Gran Turismo could be turned into a working vehicle if so required. Yet Bugatti engineers have calculated that the Bugatti Vision Gran Turismo can drive at over 400 kph (250 mph) on four sections of the virtual Le Mans track. It is faster than an LMP1 race car. The Bugatti Vision Gran Turismo concept uses a W16 engine, which delivers power to all four wheels.
A centre fin in the roof is echoed in the interior. It divides the cockpit from the rest of the interior and merges with the central console. All indicators, displays and controls are easy to read and can be reached in a split second. Two displays for the driver, improve readability with the steering wheel showing all the relevant vehicle information and a second display on the steering column combining the images from the three cameras mounted on the exterior.
Wolfgang Dürheimer, President of Bugatti Automobiles S.A.S said:
"Bugatti Vision Gran Turismo is the first stage on a new journey that Bugatti is embarking on following the successful completion of its Veyron chapter, and which will culminate in the unveiling of the next Bugatti super sports car in the not too distant future. This project showcases Bugatti's new design language, which we have developed to celebrate this new chapter in our company history."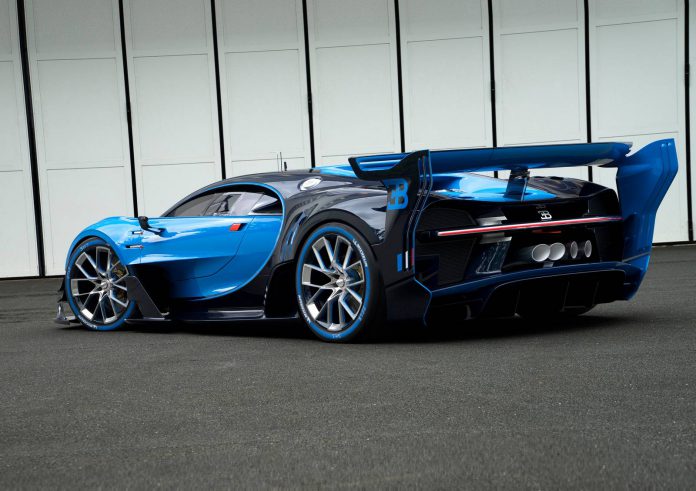 "Bugatti will remain clearly positioned in the future as a brand with a strong profile. We're building the world's fastest, most exclusive, most luxurious and most powerful production super sports car."
"Our Veyron series was limited to 450 vehicles, all of which are now owned by proud automotive connoisseurs. However, our fans, who love the brand and have remained loyal to us for years throughout the world, are unlimited in number. This project is our way of thanking them for their loyalty and enthusiasm."