Citroen Racing drivers Mads Østberg and Jonas Andersson escaped a scary crash at Rally Australia during recce on Tuesday. The two were driving a Mitsubishi Evolution IX on the last stage when they encountered a truck coming from the opposite direction, the road was too narrow to avoid a crash. Andersson was at the wheel when the accident happened, both drivers escaped with minor injuries and have now been deemed fit by the medics.
The recce car took most of the damage but it was built properly enough to protect its occupants in such an incident. The road was supposed to be closed on that particular route as all the recce cars were using it. It's standard procedure for the organizers of a WRC event to ensure that all rally routes and stages are closed from public use. This particular incident was quite bizarre because the truck was actually travelling in the wrong direction.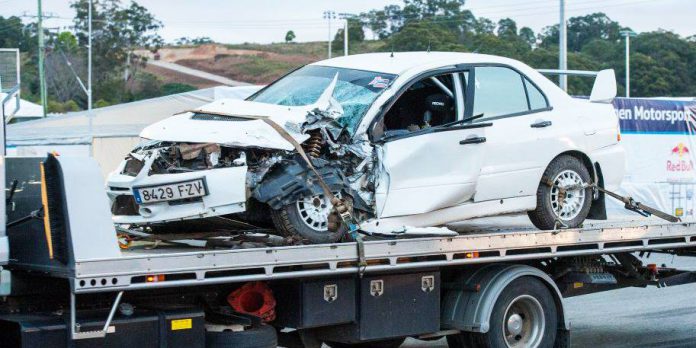 Initially the two drivers from Citroen Abu Dhabi Racing were going to continue with the rally after clearance by the medical center but the impact of the crash prompted them to drop out of the event. Stéphane Lefebvre and Stéphane Prévo will replace them in the #4 Citroen DS3 WRC. Ostberg and Andersson will travel home to Norway later today to get ready for Rally Corsica.
Meanwhile, Ostberg posted his thoughts on Facebook as he wished the other WRC rally drivers a safe event. He currently ranks fourth in the standings with 90 points while his team is third behind Hyundai Motorsport and Volkswagen Motorsport.