The third bespoke resort in the ever-growing and prestigious Ritz-Carlton Reserve portfolio has just opened with this particular one located in Ubud, Bali. Dubbed Mandapa, the resort takes its name after the entrance of a traditional Hindu temple.
The Ritz-Carlton Mandapa features 35 luxurious and spacious suites as well as 25 private pool villas. Each of the room's feature traditional Balinese designs with the interiors coming courtesy of renowned local company DesignWilkes and Jeffrey Wilkes. Mandapa has been designed in such a way that it fuses the natural materials of the local area into each building, suite and villa.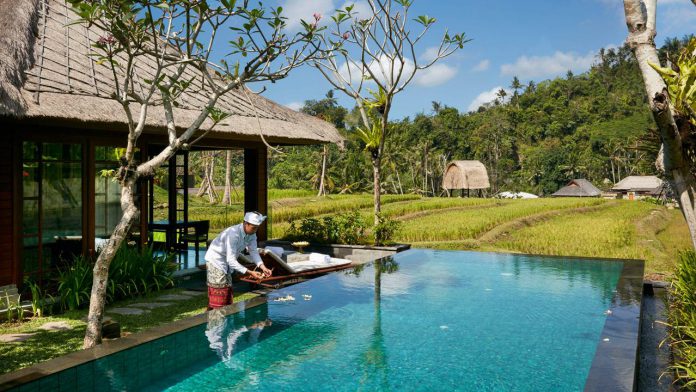 The resort is home to four restaurants and lounges which offer a number of authentic Indonesian cuisines as well as Mediterranean dining. One restaurant, dubbed Dining Beyond, allows guests the chance to dine at a number of locations within the resort with customisable menus offered to each and every guest.
An expansive spa is also found within Mandapa and it provides a Balinese spa alongside detox & nutrition programs, body therapy and a number of alternative therapies. It includes eight treatment rooms as well as a large fitness centre, vitality pool, sauna, yoga studio and relaxation areas.
[showhide]
" Situated where temples stand majestic against a backdrop of rice terraces, Mandapa, a Ritz-Carlton Reserveis pleased to announce its official debut in Ubud, Bali on September 5, 2015, as the third bespoke resort in the prestigious Ritz-Carlton Reserve portfolio.
Named after the entrance to a traditional Hindu temple, Mandapa is set along the majestic Ayung River as it meets the lush jungle in Ubud, the cultural and spiritual heart of Bali. Offering individually tailored spiritual, wellness, health and detox programs, complemented by the fulltime personalized attention of a dedicated Patih or butler, the intimate retreat is designed to be a sanctuary in which relaxing one's mind, body, and soul comes naturally.
With only 35 luxurious and spacious suites, and 25 private pool villas, guests can select from an exquisite collection of accommodations that have been meticulously designed to magnify and embrace the surrounding tropical landscape. The traditional yet contemporary Balinese interiors by Jeffrey Wilkes of renowned Asia-based DESIGNWILKES have created a true luxury experience designed to allure the world's most discerning travelers. Every element of design at a Ritz-Carlton Reserve is naturally inspired and sustainably sourced. In Mandapa, local providers have infused the retreat with natural materials that blend effortlessly into the natural surroundings.
The highly anticipated Reserve is an exclusive journey inside an indigenous Balinese village, providing a sensory path to wellness and nature. Unobstructed access to nature is an essential component of the experience in Ubud where the power of the great outdoors weaves its magic on interior comfort and is always instantly accessible; even views of working rice paddies are immediate from private terraces. As an ideal destination for collectors of extraordinary moments, the center of Mandapa will feature a traditional rice field, allowing guests to experience the time-honored methods of planting, harvesting and tending this local culinary staple.
Mandapa village will also be home to four restaurants and lounges offering an array of authentic Indonesian cuisine, Mediterranean dining, and tailored health-conscious menus for wellness and detox programs incorporating the freshest local ingredients. Dining Beyond, an exclusive culinary journey, will allow guests the chance to dine in special and exclusive locations within the Reserve and feature a tailor-made menu for each guest experience.
The Spa at Mandapa will allow guests to continue to discover peace of mind and body through holistic, comprehensive wellness and lifestyle programs based on five pillars – Balinese Spa, Detox & Nutrition, Alternative Therapy, Body Therapy, and Healing. Featuring eight treatment rooms and utilizing both ESPA and local products, the spa complex will also feature a state-of-the-art fitness center, sauna, river-front yoga studio, vitality-pool, and relaxation areas.
An organic garden, farm, and educational Kid's Hut are tucked away from the rest of the resort, to enable the smallest visitors to take an exclusive journey. The curious minds of young guests will be enriched with exciting, nature-based educational activities designed for mini explorers. In partnership with The Green School in Bali, the educational experiences of Green Camp at Mandapa introduce both the natural wonders and the rich cultural traditions of the destination. The program aims to provide a natural, holistic, student-centered learning environment that empowers and inspires the young guests to be creative and innovative green leaders.
To experience Bali's premier luxury resort at Mandapa, a Ritz-Carlton Reserve, rates at the property start at $570 USDper night. For more information on Mandapa, a Ritz-Carlton Reserve and reservations inquiries, please visit www.mandapareserve.com."
[/showhide]