The last variant of the Volkswagen Passat is here! The 2016 Volkswagen Passat Alltrack B8 combines four 2 liter diesel and petrol engines with all-wheel drive, a higher ride height and off-road looks.
Following the footsteps of the last generation B7 Passat Alltrack the new Alltrack combines elements of the new Passat with the proven Alltrack concept. The four engines include one 2.0 TSI petrol engine with 220hp and 350Nm of torque. The other three engines are all diesel engines with outputs of 150, 190 and 240hp respectively. All four cylinder engines are characterized by high levels of torque, in case of the diesel engines they deliver 340, 400 and 500Nm of torque.
The new Passat Alltrack sets itself apart from the regular Passat by a 27.5mm higher ride height, an all-terrain look with new bumpers, underbody protection, door sill and wheel arches. All-wheel drive, 7-speed DSG automatic transmission and front assist including city emergency braking and pedestrian detection come standard. A dedicated off-road mode and hill ascend/descend control make it the most versatile Passat yet.
The interior of the 2016 Volkswagen Passat Alltrack features comfort seats in the new fabric/alcantara trim and stainless steel door sills. The pedals are finished in a rugged looking brushed stainless steel.
The infotainment options offered on the new Passat Alltrack is of similar high level as the regular Passat and includes Apple CarPlay and Android Auto along with Mirrorlink. In addition special off-road info can be displayed on the touchscreen center console.
We drove the estate version called Passat Alltrack Variant with the 240hp / 500Nm strong diesel engine. This particular model feels very well at home on the autobahn and does a 0-100 km/h sprint in 6.4 seconds and tops out at 234 km/h. With an average fuel consumption of just 5.5 liter / 100 km it is very economical too.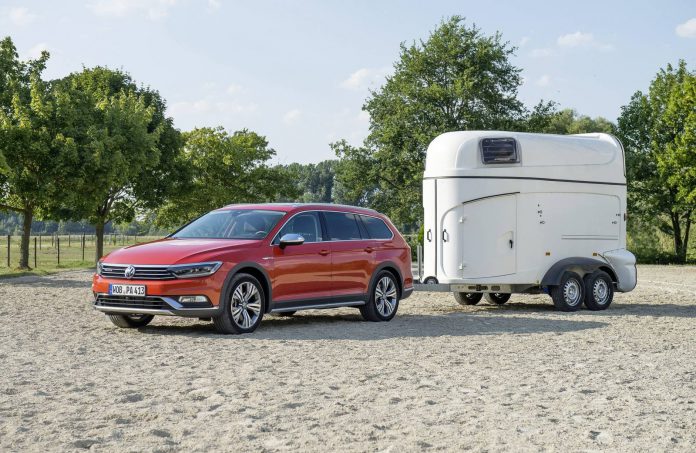 The added traction of the four-wheel drive not only make it a suitable car for dirt roads and trips to snow covered mountains but also makes it a good car to tow a trailer. It can tow up to 2,200 kg and with the trailer assist option maneuvering with a trailer was never so easy.
The 2016 Volkswagen Passat Alltrack's main competitors include the Volvo V40 and V60 Cross Country models. With the Passat's excellent assistance and infotainment systems and solid interior it beats both Volvo's with ease. Within the Volkswagen Group it could even be a cheaper alternative to the Audi A6 Allroad.
Volkswagen expects 10% of all Passat B8s ordered to be a Passat Alltrack. All Alltracks are built in the Volkswagen plant in Emden, Germany. The first deliveries of the 2016 Volkswagen Passat Alltrack are expected later this month in Germany. Sadly it won't be available in the US where a special US version of the Volkswagen Passat is on offer.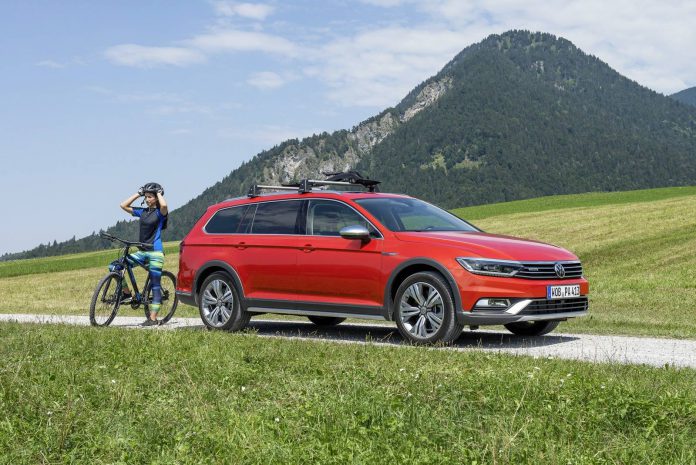 Overall the Volkswagen Passat Alltrack is a great addition to the existing Passat line-up. Only available with four-wheel drive and automatic transmission it offers both high levels of comfort as versatility. For skiing and off-roading fans this is certainly the Passat to chose. Like the other Passat models we tested there were very few things we didn't like, except that it is missing a true performance version!