Lewis Hamilton has won his third Italian GP, in a race that saw three different manufacturers on the podium. Sebastian Vettel crossed the finish line second ahead of Felipe Massa in the Williams. Bottas was fourth for Williams leading Raikkonen, Perez, Hulkenberg and Ricciardo. It was an unlucky race for Rosberg who retired with a smokey engine while running in P4.
Developing Story: Mercedes is under investigation for running illegal tire pressures which were found to be below Pirelli specifications. Update: The stewards allowed Hamilton to keep his win after ruling that the team followed all the safe procedures.
Known as the Temple of Speed, the Monza Circuit has held every Italian Grand Prix since 1950 except 1980. The Italian GP has been held for a record number of 84 times making it one of the longest running Formula 1 event. The Italian Prime Minister Matteo Renzi was present to kick off today's Grand Prix event joined by a significant number of global celebrities.
All drivers started on soft tires apart from Fernando Alonso, Carlos Sainz and the two Red Bulls. Hamilton led the field to a smooth start but Raikkonen's Ferrari stalled on the grid. The Finn dropped down to 14th, Rosberg also lost some ground from fourth to sixth. Meanwhile, Hamilton was edging away from Vettel who was in P2, the two Williams were in third and fourth.
Rosberg managed to jump Perez's Force India to take fourth, while Raikkonen began to build his pace from 14th. After three laps, both Lotus were retired with mechanical issues. A replay further showed that Rosberg's loss of ground was caused by Raikkonen's stalled car.
As a reminder, Ferrari holds the most number of Italian GP wins at 19, followed by McLaren with 10 and Alfa Romeo with 8. Mercedes ties with Lotus at 5 behind Williams with 6. In the drivers' category, Michael Schumacher has the highest number of wins at 5 followed by Nelson Piquet with 4. Vettel has three wins, a tie with the likes of Stirling Moss and Juan Manuel Fangio. Both Hamilton and Alonso have two wins alongside the likes of Niki Lauda and Jackie Stewart.
Back to the race, Hamilton was still clearing the way ahead and by lap 10 he was 6 seconds ahead of Vettel. Rosberg radioed in saying his overtaking mode was not working, his engineers radioed back telling him to take care of the brake temperatures. The German was still behind the two Williams of Bottas and Massa but still lacked enough pace to pass either.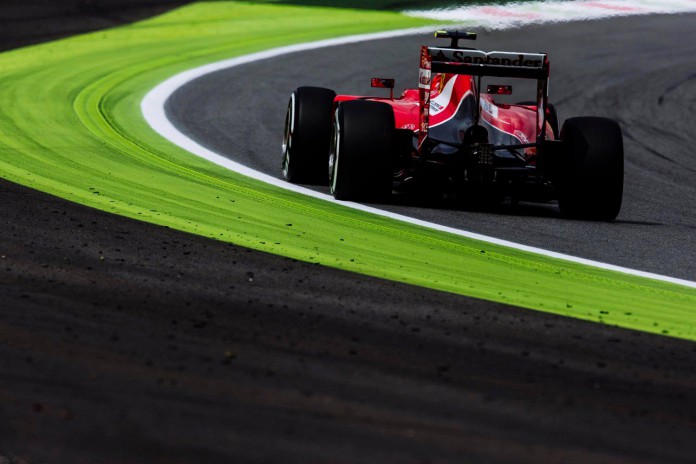 "Why, why!" cried Sainz over the radio after he was handed a five second penalty for gaining advantage off track. Max Verstappen was not wasting time further down the grid, first he took out Alonso's McLaren for 13th then Button for 12th. Raikkonen's pace was slow and the Finn was running P9 by lap 19.
When called to pit, Hamilton said he could still run a little longer on his softs. Rosberg pitted around the same time as Massa but managed to rejoin in front of the Williams . When Bottas pitted, Rosberg jumped into P5 behind Raikkonen and in front of Massa who was tailing him hard. Rosberg had a clear chance to take P3 and with a good strategy P2 was possible as Vettel was yet to pit.
Hamilton pitted on lap 26 and changed into medium rubber, he was still fast enough to rejoin in P1. After the first half session, the Brit was 18 seconds clear of Vettel who had also pitted for a set of medium rubber. Rosberg was drooling over Raikkonen who was yet to pit, ready to snatch P3 from him. The German passed the Ferrari on the pit straight soon as Raikkonen got boxed.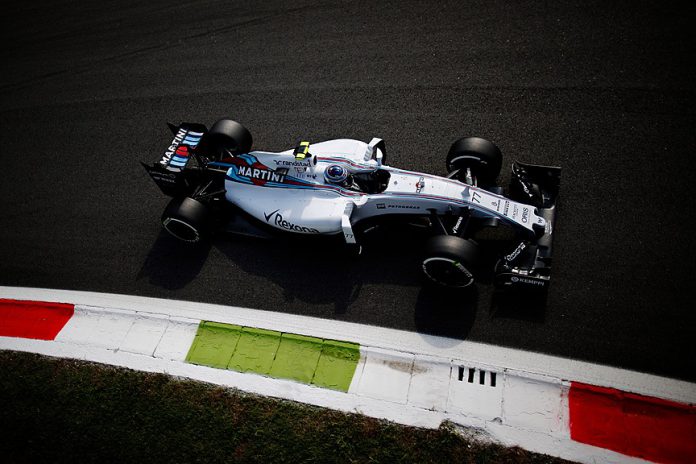 Vettel then a new fastest lap of the race on 1m27.548s but Hamilton smashed that with a 1m27.544s extending his lead to 19.2s. Raikkonen had fallen back to 9th after his pitstop which was rather slow. His chances of winning a home podium for the team seemed to be out of reach but he kept pushing taking out both Ericsson and Hulkenberg for P7.
While everything seemed to be going fine for Rosberg, his podium win slipped away after an engine problem struck his car. Smoke was seen coming from the car forcing the German to retire. Hamilton held on to the lead till chequered flag, Vettel took P2 comfortably ahead of Massa.