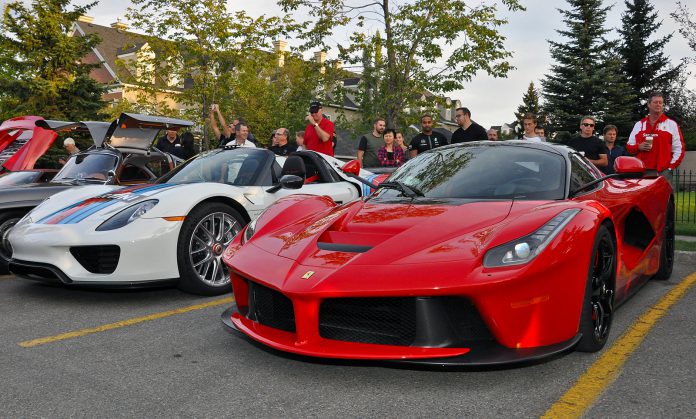 Having both a Ferrari LaFerrari and Porsche 918 Spyder Weissach package in the same place at once is truly a treat, but having a Mercedes 300SL Gullwing, Ferrari 246 Dino GT, Ferrari F50, Lamborghini Miura, Bizzarrini GT Strada and more all in one place is absolute heaven!
One of the largest turnouts ever just occurred at Euro Cars & Coffee in Calgary, a weekly event hosted by the Ferrari Club of America – Alberta Chapter.
With over $8 Million CAD all lined up in one row, nearly three-hundred spectators justled for position, readying their cameras for possibly the only time they would ever see such a lineup outside of Salon Prive or the Concours d'Elegance.
In addition to these slick rides, a duo of Aventadors, trio of Huracans, a Heffner twin turbo Lamborghini Gallardo wearing a Tron-themed livery, Aston Martin V12 Vantage, pair of Lotus Exiges and nearly 60 other high-value exotics turned up for the weekly evening event.
An Alfa Romeo 4C, plenty of BMWs, Audi R8s and countless Porsche 911s packed the parking lot so tightly that participants double-parked their rides just to get a chance to stretch their legs. This has never happened at Euro Cars & Coffee before.
What started out as a humble gathering of Ferrari and Porsche owners a few years ago has turned into a fully-blown petrol-head's wet dream. The event has grown so large that if it continues to get this large, a venue change will be a must.
Now we're just waiting to see the McLaren P1 join the LaFerrari and 918 Spyder duo and we'll be absolutely smitten!