Moscow Raceway hosted the sixth race weekend of the 2015 DTM season where two different winners emerged from the two days of racing. First was Mercedes-AMG driver Pascal Wehrlein who claimed the win in Race 1 on Saturday allowing him to top the championship standings ahead of Audi driver Mattias Ekstrom. Mike Rockenfeller turned the tables around on Sunday by winning Race 2 after claiming his second pole of the season and putting Audi back in the championship lead.
BMW driver and defending champion Marco Wittmann kicked off the race weekend by winning pole position for the first race. The action packed race witnessed numerous incidents that saw Audi drivers take the beating on their side. At the front, Wittmann was in a constant battle defending his lead from an aggressive Wehrlein and a duel of Jamie Green and Bruno Spengler. Young Wehrlein saw an opportunity during the safety car intervention and sneaked past Wittmann all the way to the finish line.
Wittmann admitted that he found it hard to defend his lead with the safety car in play and the field in chaos altogether. Ekstrom rammed into Timo Glock's BMW on lap eleven forcing the two drivers into retirement. Ekstrom was penalized in the second race where he started in fifth after qualifying third. There was also an incident involving the Audi of Miguel Molina and Tom Blomqvist's BMW. It started as a small tangle but soon the Audi started spinning on the field, everyone but Christian Vietoris avoided the car. Vietoris crashed into it heavily but both drivers walked out unharmed.
Meanwhile, Wittmann was left in a fight for second place with Jamie Green. The two were going well until Spengler made a successful move on Green thereby taking third place, Wittmann finished second making it a two podium finish for BMW.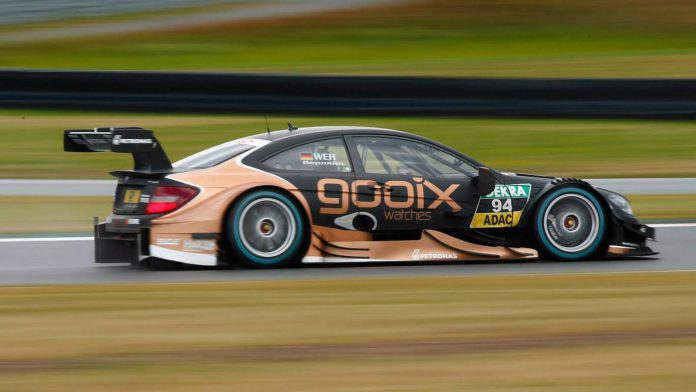 On Sunday, Audi had the best of luck after Rockenfeller won pole to start Race 2 in the lead. He had one of the heaviest cars in the field and was leading Spengler's BMW. Wehrlein had bad luck in the second race coming from a tough qualifying session. As for Rockenfeller, he was determined to score his second win in Moscow – he claimed his first win in 2013 which was also the first ever DTM race in Moscow.
Spengler took second place in the race ahead of Ekstrom who had surprisingly managed to move up the field despite serving his penalty from race 1. By finishing third, Ekstrom regained his lead in the championship with 126 points ahead of Wehrlein who has 120 points and Edoardo Mortara with 110 points.
The next DTM race will be in Oschersleben on September 11.