The crew at SR Auto Group in Canada have just wrapped up working installing a set of bespoke PUR wheels to a Lamborghini Aventador Pirelli Edition.
A mere 25 sets of the PUR RS05.2 wheels are being produced and the ones adorning this Aventador are quite special. They combine gloss black with matte carbon fibre inserts to give off a really interesting look. When combined with the red brake calipers and the red branding on the Pirelli tyres, they really make this Aventador stand out from all others.
The Lamborghini Aventador Pirelli Edition was launched at the conclusion of 2014 and is available in both coupe and Roadster variations. Differentiating the Lamborghini Aventador Pirelli Edition from run-of-the-mill Aventador models are a number of unique elements. For example, the roof, pillars, wing mirrors, engine cover, front, rear and side air intakes are finished in matte black.
The Aventador Pirelli Edition is then available in six different gloss finishes consisting of Giallo Spica, Rosso Mars, Bianco Isis, Nero Alderbaran, Grigio Liqueo and Grigio Ater. Alternatively, customers can order the car in one of four matte colours with the aforementioned parts being contrasted in gloss paint.
Beyond the visual changes, the Aventador Pirelli Edition remains mechanically identical to the regular Aventador. As a result, it features the same 6.5-litre V12 engine delivering 692 hp and mated to a seven-speed ISR transmission driving all four wheels.
[showhide]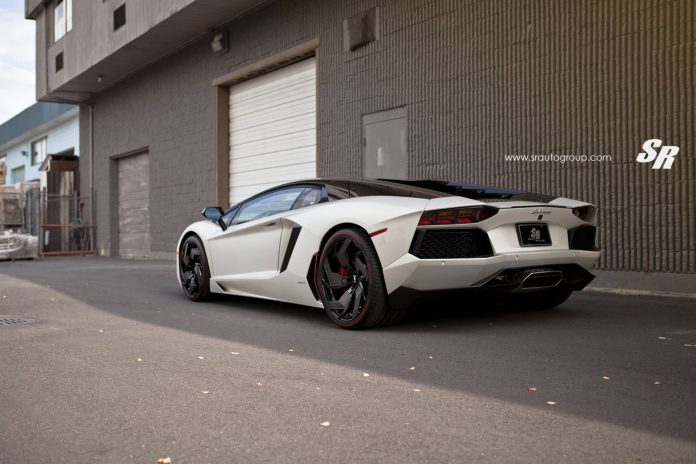 "When you have a special edition Lamborghini Aventador, no run of the mill wheel is going to do the job. You need something extraordinary, something limited, something that will take the car to the next level.
This particular Aventador was designed in conjunction with Pirelli, and features a factory matte white exterior, along with signature red accents on the vents, mirrors and tires. To really emphasize the exclusivity of this Aventador, we installed a set of forged monoblock PUR RS05.V2. The limited run of only 25 sets, made this wheel super rare and fitting for the Aventador. The gloss black/carbon fiber scheme ties in very nicely with the already black and carbon accents on the car.
Wheels
PUR RS05.V2, 20×9, 21×12.5 | Gloss Black"
[/showhide]