Mercedes-AMG did it again and claimed a 1-2 finish at the Formula 1 Belgian GP 2015. Lewis Hamilton crossed the finish line first after leading from start to finish ahead of his teammate Nico Rosberg. The two were separated by 2.0s. Romain Grosjean took an emotional third for Lotus after starting from P9 with a five-place grid penalty at hand. Red Bull's Daniil Kvyat came home fourth, ahead of Force India's Sergio Perez, Williams' Felipe Massa and Ferrari's Kimi Raikkonen.
This was Grosjean's first podium since the 2013 US Grand Prix. As for Hamilton, this was his 80th Grand Prix podium and his 39th Grand Prix win. The race began under ambient temperatures of 23 degrees C with a 30 per cent chance of rain predicted at the end of the session. There were two DRS zones – one at the pit straight and the other on the Kemmel Straight between turn 4 and 5. All the top five started on soft rubber and were expected to make their first stop on lap 15 in the 44 lap race.
There were two formation laps after several drivers faced difficulties with their cars – first was Hulkenberg who reported no power in his car but was shortly cleared to start again; then there was Sainz who had the same problem in his Toro Rosso. The race was therefore reduced to 43 laps. Hamilton made a good start but the same could not be said for Rosberg who lost a few positions after the start falling down to fifth. After the first lap, Perez was running in P2 behind Hamilton and ahead of Ricciardo, Rosberg, Bottas and Vettel.
Maldonado's Lotus was struck by problems again this time forcing him to the pits after only 3 laps. Hamilton was flying and set a new lap record, the Briton was over 5 seconds ahead of Perez who was running P2 and defending it from Ricciardo who was shaving his way up gradually. Verstappen was the star of the race after the first five laps, after starting from the near bottom the young Dutch had worked his way up to tenth place.
"I'm struggling mostly with understeer," Vettel radioed Ferrari, he was running in P4 behind Rosberg. The German had jumped into P3 after Ricciardo pitted from third, shortly after Perez pitted too leaving P2 to Rosberg with Hamilton 8 seconds ahead. Bottas had an unfortunate incident after the Williams put a mixed compound of tires on his car when he made his stop – his right rear was a medium while the other three were softs. Bottas was slammed with a drive-through penalty for that incident.
Hamilton and Rosberg pitted on lap 13 and rejoined with a fresh set of medium tires albeit still in P1 and P2 respectively. Rosberg set a new lap record on 1m54.264s bringing down Hamilton's lead to just 3.4s. After 15 laps into the race, Hamilton was in P1, Rosberg in P2, Perez in P3, Ricciardo in P4 and Lotus' Grosjean in P5. An incredible race for the Lotus driver who qualified fourth but started from ninth due to a penalty incurred after changing a gearbox.
Grosjean was moving up at a faster pace than the rest of the field, he passed Ricciardo for fourth and then flew past Perez for third. The Lotus team kept encouraging over the radio, other than the Mercedes', he was the fastest man on the field. Elsewhere, the virtual safety car was brought out after Ricciardo started slowing down as he came out of the Bus Stop, there was contact between the Red Bull and Vettel's Ferrari.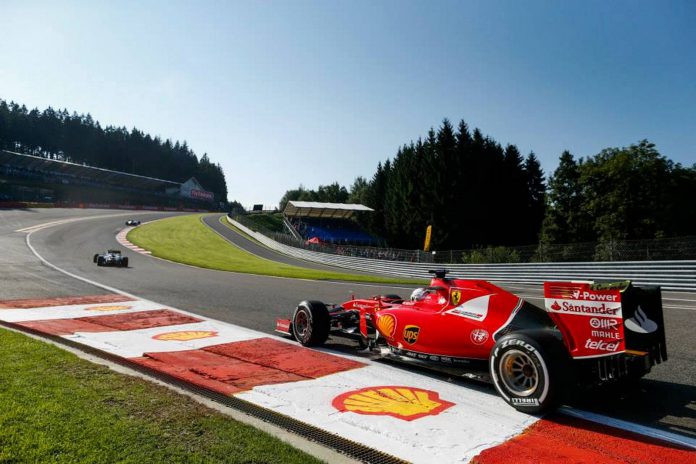 "How did Nico gain a second under the VSC?", that was Hamilton over the radio after Rosberg trimmed his lead to 2.6s. Nonetheless, the Briton managed to extend his lead once more to 4.3s by lap 26. Raikkonen was still further down in P8 behind Kvyat and Massa. Grosjean had dropped to fourth after pitting for medium tires, Vettel was running third behind the Silver Arrows.
Hamilton pitted and picked up soft rubber, he was now much faster but Rosberg followed in and picked up soft rubber as well. The Silver Arrows were just too fast in the race – running in the 1m52s while their rivals behind were doing 1m54s. With nine more laps to go, Hamilton was still in the lead, Rosberg in P2, Vettel in P3 away from a threatening Grosjean who was shaving away second by second in his fight for a Lotus podium. Ferrar's unlucky weekend was soon highlighted when Vettel's rear tire blew with only three laps left, giving Grosjean a clear way for P3! The Ferrari engineers were seen throwing their hands up in despair as their last hope for a podium flew away.
Free Practice and Qualifying Highlights
Rosberg kicked off Friday's FP1 by setting the fastest time of the session to lead Hamilton and Red Bull's Daniel Ricciardo. The German had stalled in the pits after suffering loss of power in his car but eventually got back in the field, his luck struck after the red flag session caused by Lotus' Pastor Maldonado who spun hard in Turn 7. Rosberg went fastest on 1m 51.082s away from Hamilton's 1m 51.324s and Ricciardo's 1m 51.373s.
Celebrating his renewed contract with Ferrari was Kimi Raikkonen who went fourth fastest on 1m 51.478s to lead his teammate Sebastian Vettel who rounded off the top five. The 2015 Belgian GP will be the 150th for Vettel and 900th for Ferrari as a team. McLaren was the least fortunate team after gathering a total of 105 grid penalties brought about by the use of extra engines. The two McLaren cars of Alonso and Button started from the bottom of the field in the main race.
Rosberg managed to go fastest again during FP2 despite a scary incident that saw his rear right tire bolt off in the final minutes. Hamilton was second fastest leading Red Bull's Ricciardo to repeat an FP1's top three finish. Kvyat was fifth, followed by Raikkonen, Force India's Hulkenberg and Lotus' Romain Grosjean. Verstappen picked up a 10 place grid penalty for the main race due to an engine change while Grosjean was awarded a five place grid penalty due to a gearbox change.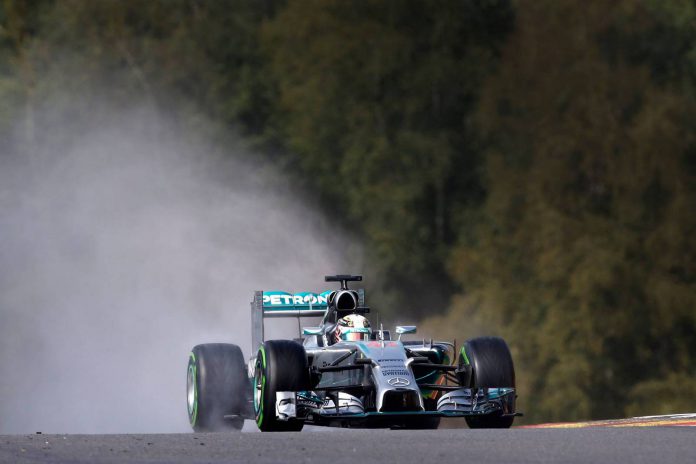 Hamilton smashed the timesheets in PP3 on Saturday morning by going fastest on 1:48.984 to lead Rosberg by half a second. The German had initially set the pace with a 1m 49.482s lap on soft rubber but Hamilton beat that with his winning time to head into qualifying in the lead. Vettel was third for Ferrari leading Raikkonen, Sergio Perez and Ricciardo.
Qualifying was filled with lots of action as usual and it was Hamilton who claimed pole for the Belgian GP recording his sixth straight pole win and tenth of the season. Rosberg was second fastest leading Williams Valtteri Bottas, Grosjean and Sergio Perez to mark the end of the top five finishers. Unfortunately for Grosjean he had to pick up his grid penalty and thus dropped to P9.
Ferrari had an unlucky day as Raikkonen was knocked out of Q2 after suffering a mechanical failure, Vettel's best time in the final session was further down in P9 but moved up to P8 after Grosjean's penalty took effect.
Hamilton still leads the driver standings with 202 points away from Rosberg's 181 points. Vettel is third with 160 points, Bottas has 77 points while Raikkonen rounds up the top five with 76 points. The next race will be the Italian Grand Prix which will be held on September 4.