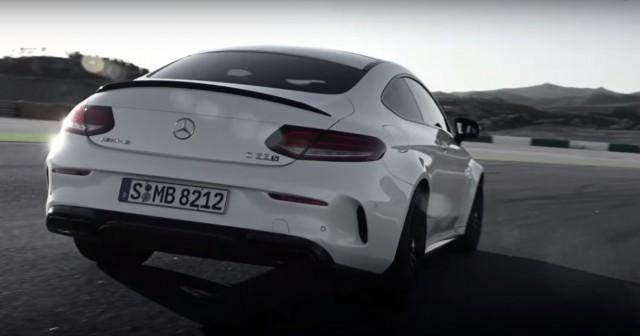 Just after the official online debut of the 2016 Mercedes-AMG C63 Coupe, the first official video of the German sports car has been released. Showing the car being driven to its limits at the racetrack, the clip provides us with our first chance to see the baby S-Class Coupe in action. Unsurprisingly, it seems very much at home on track!
[youtube]https://www.youtube.com/watch?v=G73YXWH9Cqs[/youtube]
From a mechanical standpoint, both Mercedes-AMG C63 Coupe models utilise a twin-turbocharged 4.0-litre V8 engine. The entry-level model pumps out 469 hp between 5500 and 6250 rpm while the more potent 'S' branded model delivers 510 hp between the same rev range. Torque for the two models stands at 650 Nm and 700 Nm respectively. Consequently, the C63 Coupe will hit 100 km/h in 4 seconds while the C63 S Coupe will reach the same mark in 3.9 seconds.
Mated to the engine is AMG's latest Speedshift seven-speed sports transmission driving the rear wheels. This gearbox provides seamless gear changes which are significantly faster than those of the previous-generation C63 AMG Coupe. Also from a mechanical standpoint, the new C63 Coupe features four-link front suspension with radical, racing-style brake connections. Compared to the sedan, the C63 Coupe also features a 25 mm wider track for improved handling. The car then rides on either 18 or 19 inch wheels with 255 and 285 mm wide tyres.
Importantly, the C63 Coupe also utilises a mechanical rear-axle limited-slip differential while the C63 S Coupe features an electronic limited-slip diff. With the S model, its electronic diff provides three different modes when working in conjunction with the traction control system; ESP ON, ESP Sport Handling Mode and ESP OFF.