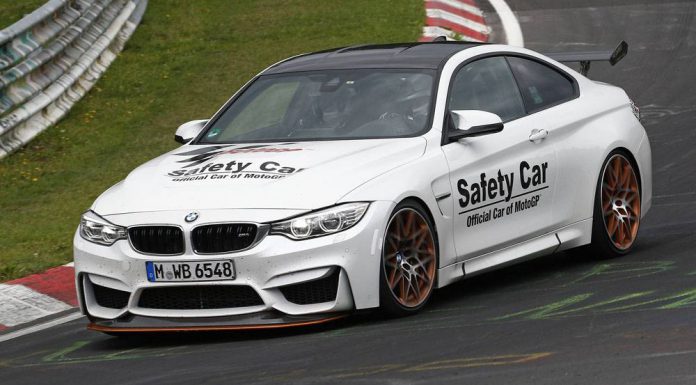 Hot on the heels of the BMW Concept M4 GTS debuting at Monterey Car Week 2015, new spy shots of the production-spec M4 GTS testing at the Nurburgring have emerged. While this prototype continues to be adorned with stickers saying it is the MotoGP Safety Car, there's no mistaking its true identity.
The most significant point of difference between this M4 GTS and previously spied test mules are its wheels and the front splitter. The splitter featured looks identical to the carbon fibre one from the Concept M4 GTS and even includes the same orange accent. Meanwhile, the same set of orange and silver wheels of the concept car are present.
Beyond these elements, the M4 GTS prototype pictured features a large carbon fibre rear wing. Interestingly, it also features camouflage across the taillights suggesting that the advanced OLED lights of the concept will make their way onto the production car.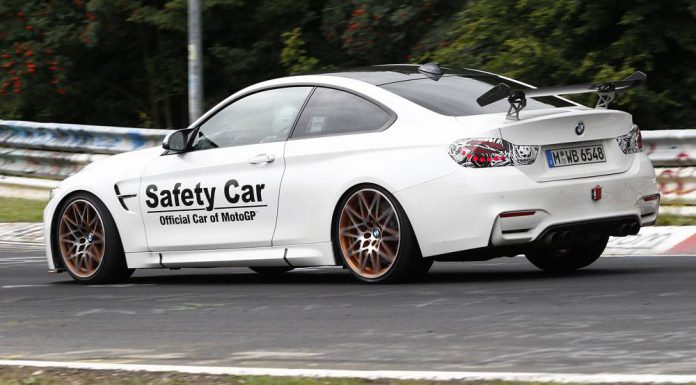 From a mechanical standpoint, the complete M4 GTS will feature the same water-injection system as the concept and first used by the M4 MotoGP Safety Car. The water-injection system utilises a 1.3 gallon water tank with water being injected directly into the plenums of the intake manifold. This results in lower compression temperatures and BMW claims that this results in extra horsepower and more torque.