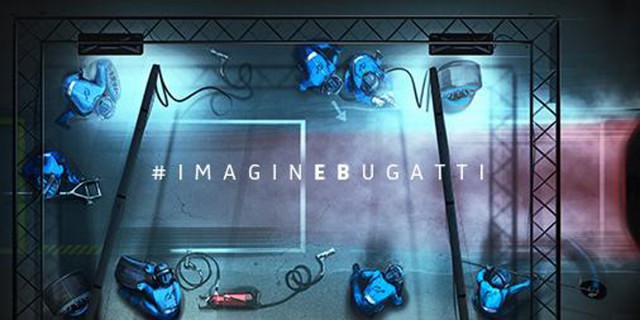 During Monterey Car Week 2015, Bugatti released a teaser video believed to be previewing its next hypercar, the Chiron. Now however, a teaser image has been released and it seems inevitable that the car the French marque is teasing isn't the Veyron's successor and instead the latest car from the Vision Gran Turismo series.
In the above teaser image once again entitled #ImagineBugatti, we can see seven mechanics wearing Gran Turismo uniforms having just completed a pit stop on the Bugatti Vision GT Concept which can be seen speeding out of picture.
While it is somewhat disappointing that Bugatti is teasing this virtual car rather than the Chiron, there's a very good chance that the Vision GT concept will feature many similar design elements to the Chiron.
From a mechanical standpoint, the Chiron will feature the same basic quad-turbocharged 8.0-litre W16 engine as the Veyron. However, boost will be increased and at least two of the turbos will be electrically driven units. As a result, the new French hypercar should pump out 1500 hp and consequently be capable of hitting 100 km/h in just over 2 seconds before topping out at over 450 km/h. The revised seven-speed dual clutch transmission and all-wheel drive system featuring torque vectoring will also aid in achieving these numbers.
The car will be based around the same carbon fibre architecture as the Veyron but it is reported that over 90 per cent of the parts will be brand new or revised. These new parts will be both stronger and lighter in an effort to ensure that the Chiron weighs less than the Veyron.