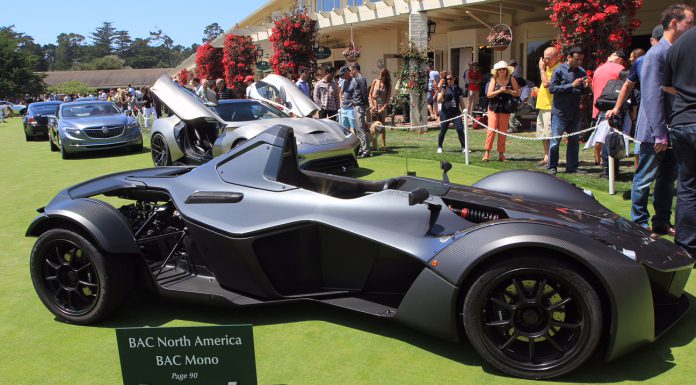 At the Monterey Car Week 2015, the updated 2016 BAC Mono celebrated its North American debut and was displayed on the Concept Lawn at Pebble Beach.
For the 2016 model year, BAC has installed an entirely new engine in place of the screaming 280 hp 2.3-litre Cosworth engine featured previously. In its place is a 2.5-litre four-cylinder from Mountune pumping out 305 hp. When combined with a total weight of just 580 kg, the 2016 BAC Mono has an insane power-to-weight ratio of 526 hp per tonne. Additionally, the new car features a drive-by-wire throttle system.
At the Goodwood Festival of Speed in June, the British sports car sprinted up the hill climb in a brisk 47.9 seconds which BAC claims is a record-breaking run for a road-legal car. Additionally, it has been revealed that the 2016 Mono managed to lap the Hungaroring in 1:14.3, putting it 9.5 seconds ahead of the Porsche 911 GT3 and 4.5 seconds faster than a McLaren P1.
Discussing the vehicle's appearance at Monterey, BAC director of strategy and corporate development Andrew Whitney said "The Mono is much more than a track car – it's a scrupulously engineered luxury product that uses the best materials and the best minds to create something that truly stands in a league all of its own. We believe that Pebble Beach and The Quail are the best events of their kind in the world and that's why we're here".