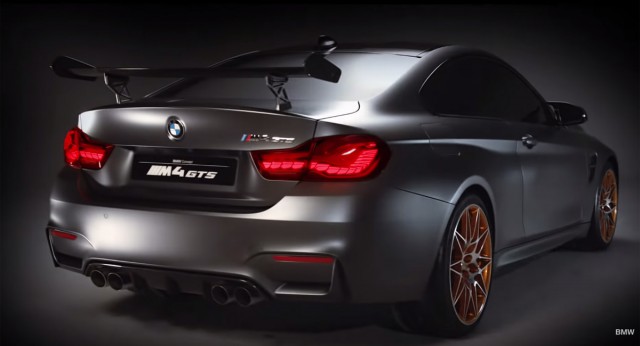 On the back of the BMW Concept M4 GTS debuting during Monterey Car Week 2015, a brief video highlighting the car has been released. While it doesn't show the hardcore M4 on the track, it does succinctly show some of the visual modifications the car has undergone.
[youtube]https://www.youtube.com/watch?v=g_AT2djYGmA[/youtube]
As the name of the car implies, it previews a hardcore variant of the M4 Coupe dubbed the GTS. The most significantly mechanical change is its implementation of a water-injection system pioneered by the M4 MotoGP Safety Car. That water-injection system utilises a 1.3 gallon water tank with water being injected directly into the plenums of the intake manifold. This results in lower compression temperatures and BMW claims that this results in extra horsepower and more torque.
Beyond this system, the Concept M4 GTS also features a set of advanced OLED taillights. BMW claims that these taillights preview "a new type of light source producing full-surface and homogenous illumination" with the individual light modules being just 1.4 mm high.
Elsewhere, the Concept M4 GTS features a number of other visual and aerodynamic modifications. For starters, it is wearing a set of special wheels measuring 19×9.5 at the front and 20×10.5 at the rear and wrapped in Michelin Sport Cup 2 tyres. The car also features a carbon fibre front splitter, a carbon rear diffuser as well as a large carbon fibre rear wing.