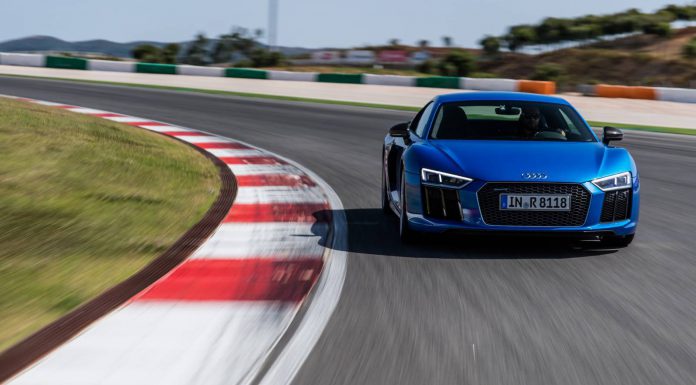 Last month, we had the awesome opportunity to drive the second-generation 2016 Audi R8 V10 Plus. Now Evo Magazine has released their detailed video review of the latest German supercar and it is definitely worth a watch. It sees the new R8 being tested both on the road and the Portimao racetrack.
[youtube]https://www.youtube.com/watch?v=vHlTn6zkdHs[/youtube]
The new R8 is available in two different versions both equipped with a V10 engine. The V8 will not make a comeback in this generation R8, although an E-tron version has been confirmed and an entry-level version is on the cards with a turbocharged engine.
Both the Audi R8 V10 and V10 Plus come with a 5.2-litre V10 engine with quattro all-wheel drive and S-tronic gearbox. The V10 delivers 540 hp and 540 Nm of torque while the V10 Plus pushes out 610 hp and 560 Nm of torque. The sprint from 0-100 km/h can be done in 3.5 and 3.2 seconds respectively. The V10 Plus can sprint from 0-200 km/h in a noteworthy 9.9 seconds. The Audi R8 V10 tops out at 320 km/h while the V10 Plus has a top speed of 330 km/h.
The weight of the new Audi R8 V10 Plus has dropped to 1454 kg mainly due to the new Audi Space Frame. The handling of the new Audi R8 V10 Plus is redefined by a new quattro setup with variable torque distribution. Besides the four driving modes also found on other performance Audis – Comfort, Auto, Dynamic and Individual – a new performance mode on the Audi R8 V10 Plus allows you to choose between three pre-defined settings for ideal grip on dry roads, wet roads and snow.