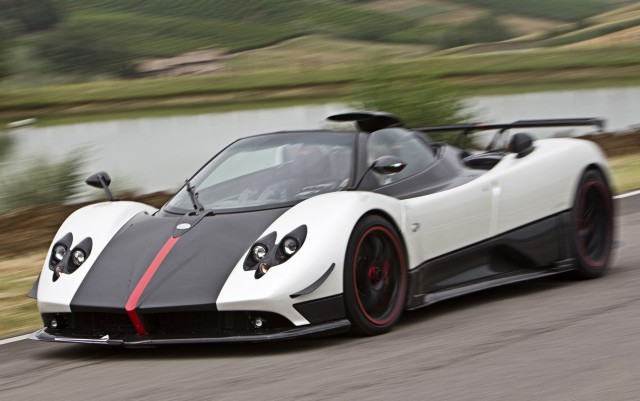 There's nothing quite like the sound of a good sounding supercar. Whether its a bellowing V8, a howling V10 or a high-pitched V12, an amazing exhaust and engine note is a key criteria for a car to be considered a supercar. In this spirit, we've decided to list what we believe are the Top 10 best sounding supercars ever offered for sale for road use.
---
1. Pagani Zonda Cinque Roadster
It should hardly surprise anyone that we've listed a Pagani Zonda as the best sounding supercar ever conceived. Of course, all Zondas sound absolutely spectacular particularly those fitted with the 7.3-litre naturally-aspirated V12 engine. In the end, we opted for the limited edition Zonda Cinque Roadster as it is certainly the most insane Zonda with a series production run (rather than the made-to-order 760 models). It's V12 delivers 669 hp but even that power figure is overshadowed by an exhaust note capable of waking the dead. And for drivers and passengers, the Cinque Roadster is unrivalled!
[youtube]https://www.youtube.com/watch?v=h_y53_gYj1g[/youtube]
2. Ferrari F50
Powering the Ferrari F50 is a 4.7-litre V12 engine which shares its block with Ferrari's 1990 Formula One car. Consequently, it sounds truly extraordinary and we'd argue is the best sounding car from Ferrrari's long history of 'hypercars' with the 288 GTO, F40, F50, Enzo and LaFerrari.
[youtube]https://www.youtube.com/watch?v=m0qp_tXTIi0[/youtube]
3. Lexus LFA
While it may have taken Lexus the better part of a decade to create the LFA, it certainly didn't disappoint when launched. Undeniably the most impressive part of the LFA is its engine. It is a 4.8-litre V10 unit that redlines at an insane 9000 rpm but can continue to 9500 rpm before fuel is cut. The engine is both more compact than a typical V8 and weighs less than the marque's 3.5-litre V6. Toyota engineers say the LFA has the "roar of an angle". We'd have to agree with them.
[youtube]https://www.youtube.com/watch?v=d9qYCUjrrYs[/youtube]
4. Porsche Carrera GT
The Porsche Carrera GT is regarded as one of the best supercars ever produced. Launched at a similar time to the Ferrari Enzo and Mercedes-Benz SLR McLaren, the Carrera GT may have been intimidating to drive but it has also proven itself to be exceptionally rewarding. The German car's 5.7-litre naturally-aspirated V10 engine also happens to sound unlike any other car ever produced. Just listen to that howl!
[youtube]https://www.youtube.com/watch?v=ncO4vGfvE34[/youtube]
5. Lamborghini Murcielago LP670-4 SV
A V12-powered Lamborghini just had to be somewhere on the list didn't it? Rather than the new Aventador SV, we've opted for the Lamborghini Murcielago LP670-4 SV. While it isn't as powerful as the Aventador SV, its 6.5-litre V12 pumps out an unrivalled symphony. It's little surprise why Lamborghini itself claims it produces an acoustic experience "from the heavy rumble of a stormy night, through the trumpeting of mighty elephants to the roar of a raging lion". Yep, sounds about right.
[youtube]https://www.youtube.com/watch?v=4nzu0F-gIj4[/youtube]
6. Pagani Huayra
The Pagani Huayra is the highest ranked turbocharged vehicle on our list. While turbocharging/supercharging can often restrict an engine's sound, Pagani deliberately made the Huayra's twin-turbo AMG 6.0-litre V12 as over-the-top as possible with very specific turbo tuning. As the following video from the marque's chief test driver shows, the Huayra's sound is truly addictive!
[youtube]https://www.youtube.com/watch?v=3TnO0YMEB-4[/youtube]
7. Ferrari 599 GTO
As one of just three Ferraris to wear the fabled 'GTO' badge, the 599 GTO certainly had a lot to live up to when launched. In typical Ferrari style however, it was far from a let down and is in fact one of the most driver focused Ferraris launched in recent years. Powering the 599 GTO is a 6.0-litre V12 delivering a cacophony unlike any other car on the market.
[youtube]https://www.youtube.com/watch?v=aFTB-PJVPQ8[/youtube]
8. Lamborghini Gallardo
Not only is the Lamborghini Gallardo the marque's highest selling model with over 14,000 sold, but it is also one of the finest sounding Lamborghinis produced. Thanks to its 5.2-litre V10 engine in later iterations, the Gallardo produces a completely distinct roar which is recognisable from a mile away. if you're a supercar enthusiast, you should be able to identify a Gallardo from its exhaust note well before it comes into sight.
[youtube]https://www.youtube.com/watch?v=zWq3LNjRmso[/youtube]
9. Koenigsegg Agera R
A Koenigsegg just had to feature on this list somewhere. While we could have opted for the insane One:1, to our ears, the Agera R sounds just as good. There are also many more videos of the Agera R than the One:1. Producing the unmistakable bellow of the Koenigsegg Agera R is a twin-turbocharged 5.0-litre V8 delivering 1124 hp.
[youtube]https://www.youtube.com/watch?v=9ysE3CGxrWA[/youtube]
10. Jaguar F-Type V8 S Roadster
Not only is the range-topping Jaguar F-Type Roadster model, the V8 S, a joy to drive but it is also a true joy to listen to. Despite its 5.0-litre V8 featuring forced induction in the form of a large supercharger, the car has been designed in such a way that it sounds just as good as the greatest naturally-aspirated V8s ever produced. Just listen to that roar!
[youtube]https://www.youtube.com/watch?v=wsWvB-5wTtg[/youtube]