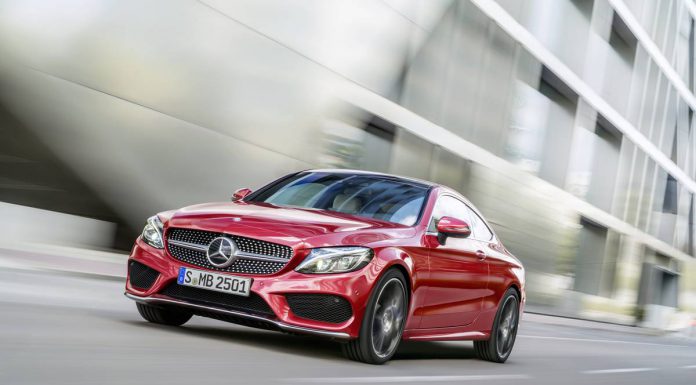 Just after the 2016 Mercedes-Benz C-Class Coupe officially debuted in C300 and C300 4Matic spec, details about European-bound engines have been released.
When the all-new C-Class Coupe arrives across Europe in December, it will be offered with four petrol engines and two diesels. The base model comes installed with a 1.6-litre four-cylinder delivering 154 hp. This model is dubbed the C180 Coupe. Next in the range is the C200 which utilises a 2.0-litre four-cylinder with 181 hp.
The final two petrol models are the C250 with 211 hp from its 2.0-litre four-cylinder and a 242 hp model dubbed the C300 with an upgraded version of this four-cylinder. As for the diesels, they are rated at 168 hp and 201 hp respectively.
Generally speaking, the new C-Class Coupe is 95 mm longer and 40 mm wider than the outgoing C-Class Coupe while the roof has also been dropped dramatically to give the C-Class Coupe a similar profile to the larger S-Class Coupe.
From the front, everything is standard C-Class with a prominent chrome grille as well as large air intakes and an eye-catching splitter. It is at the rear where most the changes are present. They include taillights reminiscent of those from the S-Class Coupe as well as a refreshed rear bumper and diffuser setup. A subtle bootlid lip spoiler is also featured near the steeply raked rear window.
Another key element of the C-Class Coupe is the optional Airmatic air suspension system for both the front and rear axles. It continually adjusts the damping in any given situation. It also offers five driving modes; ECO, Comfort, Sport, Sport + and Individual. Elsewhere, the new 2016 Mercedes-Benz C-Coupe uses aluminium heavily in its construction to ensure it weighs less than the model it replaces. In fact, the fenders, bonnet and boot are made from aluminium.