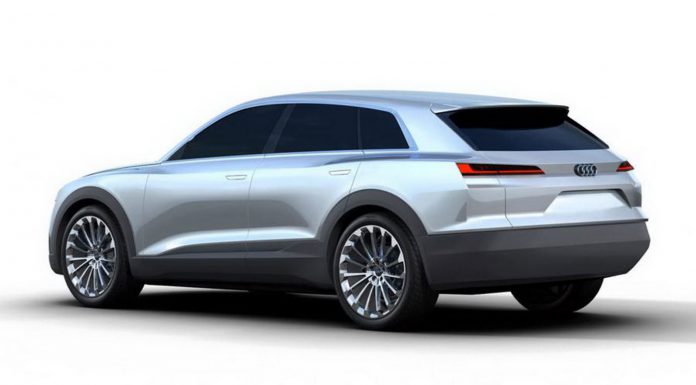 It has been confirmed that Audi's upcoming all-electric SUV, dubbed the Q6, will make use of cell modules from South Korean suppliers LG Chem and Samsung SDI. Consequently, it will have a range in excess of 500 km.
Details about the Audi Q6's battery pack are otherwise scarce but it has been confirmed that the two South Korean companies will invest heavily in cell technology throughout Europe while also supplying the German marque with its batteries.
Discussing the collaboration, member of the board of management of Audi for Development Ulrich Hackenberg said "With our first battery-electric Audi-SUV, we are combining an emission-free drive system with driving pleasure. We will optimally integrate the innovative cell modules developed with LG Chem and Samsung SDI into our vehicle architecture, thus achieving an attractive overall package of sportiness and range."
Beyond being offered in all-electric guise, the Audi Q6 will also be available as a plug-in hybrid and ultimately, with an advanced hydrogen-fuelled powertrain.
Elsewhere, the Audi Q6 will be exceptionally sleek to ensure that it has a low coefficient of drag. Consequently, it should feature a body style similar to the BMW X6 and Mercedes-Benz GLE Coupe.
[showhide]
"South Korean high-tech companies LG Chem and Samsung SDI to invest in European battery-cell production for Audi
Battery-electric SUV with a range of more than 500 kilometers
First battery-electric Audi SUV will combine sportiness and range with an emission-free driving system
August 13, 2015 | INGOLSTADT, Germany — Audi will develop the battery for a purely electrically powered sport utility vehicle on the basis of powerful cell modules from the South Korean suppliers LG Chem and Samsung SDI. The two Audi partners plan to invest in the cell technology in Europe and will supply the Ingolstadt-based car producer from their European plants. The new technology will give drivers of the Audi sport utility vehicle a range of more than 500 kilometers.
"Together with our South Korean development partners, we are bringing production of the latest battery-cell technology to the EU and strengthening European industry with this key technology," stated Dr. Bernd Martens, Member of the Board of Management of AUDI AG for Procurement. The cell modules are to offer particularly high performance. "This will allow us to supply a technological solution that makes electric cars even more attractive for our customers."
"With our first battery-electric Audi-SUV, we are combining an emission-free drive system with driving pleasure," said Prof. Dr. Ulrich Hackenberg, Member of the Board of Management of AUDI AG for Development. "We will optimally integrate the innovative cell modules developed with LG Chem and Samsung SDI into our vehicle architecture, thus achieving an attractive overall package of sportiness and range."
[/showhide]