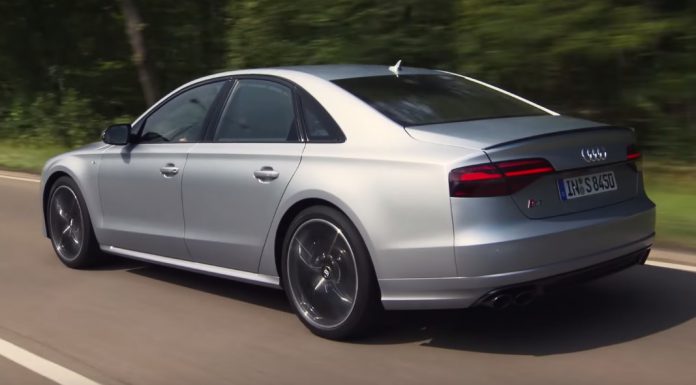 The official launch trailer for the 2016 Audi S8 Plus has just been released. Providing the first driving shots of the car, the trailer highlights the performance of the S8 Plus as well as its unique styling elements and its exceptional luxury and classiness.
[youtube]https://www.youtube.com/watch?v=MPaIzfJ5c8I[/youtube]
Compared to the regular Audi S8, power output is increased to a staggering 605 hp; enough for top speeds of up to 305 km/h (189.5 mph). The 4.0 TFSI V8 engine also produces a healthy 700 Nm (516.3 lb ft) of torque or 750 Nm (553.2 lb ft) in overboost mode. That's a gain of 85 hp over the standard model. The S8 Plus accelerates from 0 to 100 km/h (62.1 mph) in just 3.8 seconds. To achieve this, Audi engineers fitted a special ECU, modified exhaust valves and modified inner geometry for the turbocharger.
The power is converted to the road by an eight-speed tiptronic gearbox and Quattro drivetrain together with a sport differential. Adaptive air suspension, sport and dynamic steering and 21 inch wheels with 275/35 tires help to keep it planted. An optional dynamic package remove the top speed limited, adds carbon fibre reinforced ceramic brakes with anthracite-grey calipers and a sports exhaust system.
Underneath, the 2016 Audi S8 Plus gets an Audi Space Frame which weighs just 231 kg. The body is almost entirely aluminium. You can tell the S8 plus apart from its rear spoiler lip on the bootlid, flaps in the side air inlets, mirror housings and gloss black or carbon fibre trim pieces. The tail lights are darkened and the rear gets a gloss black diffuser insert as well as gloss black tailpipes. The matt-effect paint finish is floret silver is exclusively available on the S8 plus. All of the colours offered on the S8 are also available on the S8 Plus.