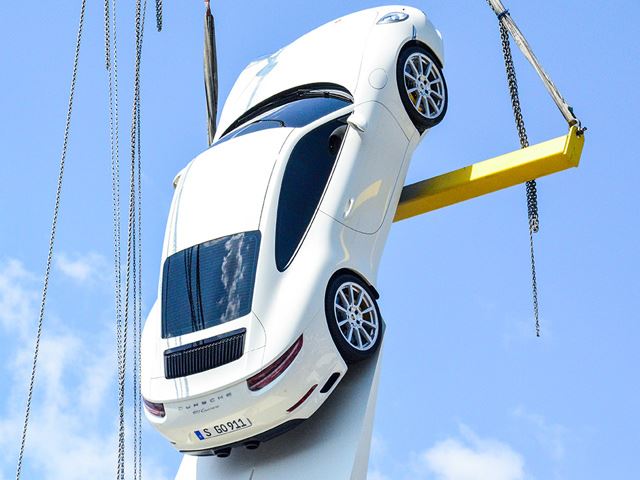 The facelifted 2016 Porsche 911 range is set to debut at September's IAA Frankfurt Motor Show 2015. Not long after prototypes were spied completely undisguised, shots have surfaced showing the new 911 completely uncovered yet again. These pictures however, are particularly interesting.
The images come from Porsche's German headquarters and the towering sculpture currently being installed there. Affixed at the top of the sculpture are three Porsche 911 models with one of them being the facelifted 911.When being installed however, strong winds made it difficult for covers to be fitted providing us with an unimpeded view at the tweaked design.
The front of all facelifted 911 models will be characterised by a number of changes. They will include the installation of slightly modified headlights, new horizontal slats in the air intakes which could be active in some variants as well as revised bumpers across the board. Modified LED daytime running lights will also be featured on all 2016 911 models.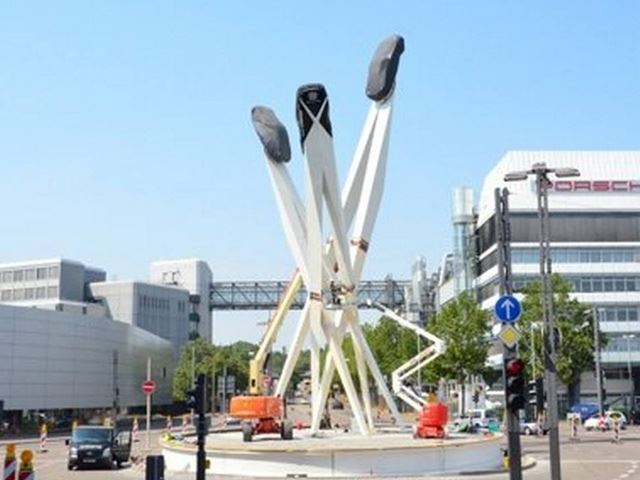 At the rear, the changes will be just as minor with different taillights, a refreshed bumper and redesigned exhaust outlets. Inside, we know that the new 911 range will receive a steering wheel similar to the 918 Spyder's alongside an upgrade PCM touchscreen interface and infotainment system.
Beyond these changes, the most significant development of the facelifted Porsche 911 will be its adoption of turbocharged engines across the range. These new engines will reportedly replace the existing range of naturally aspirated engines leaving the 911 range with just a single all-motor powerplant exclusively for the 911 GT3 and GT3 RS.