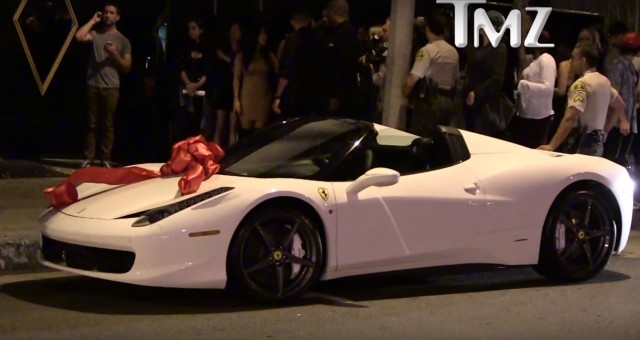 Unless you've been living under a rock in recent years, then you've inevitably heard of both the Kardashian and Jenner families. Famously famous for being famous, the two clans certainly aren't shy in showing off their wealth.
In their latest display, 18-year-old Kylie Jenner was given a white Ferrari 458 Spider from her hip hop artist boyfriend Tyga. While it's impossible to say how much Tyga paid for the car, it's likely that it was purchased through a dealership and came with a decent discount considering the 488 Spider will reach the market soon.
Rather than given the gift in the privacy of one of the family's properties, it seems as though the exchange happened in public hence the massive crowds of paparazzi which bombarded the couple with flashes and photos.
Oh the joys of being rich.