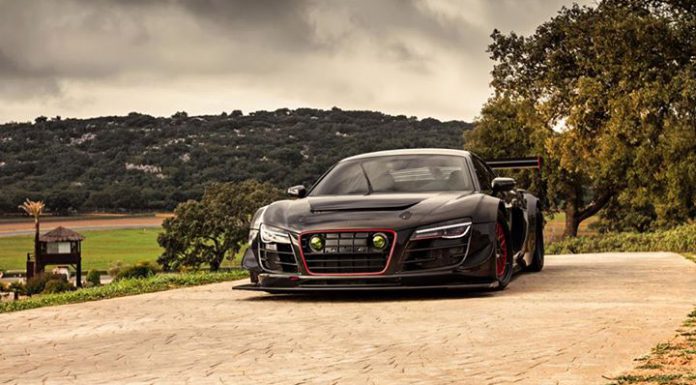 Tuning company McChip-DKR has just revealed what could very well be the most insane project it has ever been involved with. The final product is dubbed the Projekt Rotter & Rich Recon R8 V10 FSI Supercharged and as the name implies, it is based around the Audi R8 supercar but includes a multitude of visual and performance oriented modifications.
On an engine front, a supercharger now complements the 5.2-litre Lamborghini-derived V10 engine. Thanks to this supercharger, the R8 V10 in question delivers about 300 hp more than stock bringing the final figure up to 850 hp at the flywheel.
Beyond the engine modifications, all of the R8 V10's body panels have been replaced by ultra-lightweight carbon fibre parts to ensure the car weighs dramatically less than a standard R8. A number of custom aerodynamic components have also been installed. They include the installation of insanely bold canards, a prominent front splitter, a towering rear wing, custom side skirts and a new rear diffuser.
Other upgrades found on the car include new Brembo racing brakes, KW suspension and a Capristo exhaust.