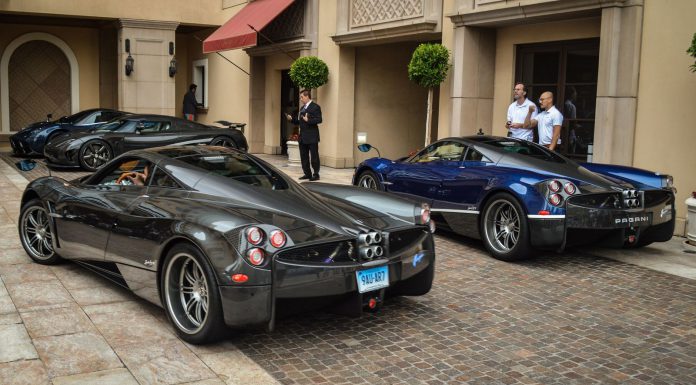 Just recently, the very first North American Pagani Raduno drive event kicked off in the United States. The event has attracted a number of both local and international Pagani owners and enthusiasts with no less than eleven insane examples of the Huayra supercar participating in the drive.
Of the Pagani Huayras participating, we have some of the most exclusive and heavily customised examples to ever leave the Italian marque's small facility. They include the Pagani Huayra La Monza Lisa and Huayra 730S Edition which both reside permanently in the United States.
Elsewhere, the U.S.'s custom Huayra 'The King' 1 of 1 of 1 is also participating in Pagani Raduno. Others include an eye-catching bare carbon fibre example with a custom wrap featuring the stripes of the Italian flag. Another particularly noteworthy Huayra is one finished in a gorgeous shade of deep blue and complemented by a plethora of carbon fibre body panels and accents.
[youtube]http://www.youtube.com/watch?v=_0ffoqPBZQI[/youtube]
Beyond the Huayras participating, there are a selection of other incredible supercars and hypercars including a carbon fibre Koenigsegg Agera R, a Porsche 918 Spyder, Lamborghini Aventador, Rolls-Royce Phantom Drophead Coupe and that's just to name a few!