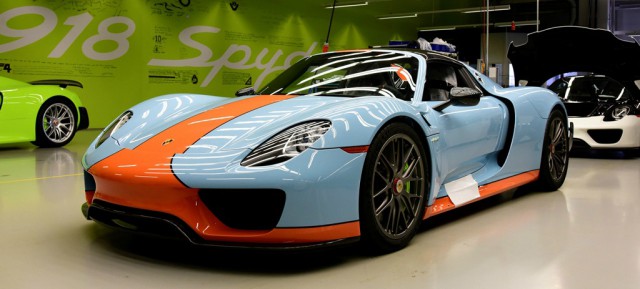 Images have just surfaced online showing a Gulf-themed Porsche 918 Spyder. While Porsche offers a Martini livery for its German hybrid hypercar as part of the Weissach package, even that is outshone by this Gulf painted example.
The car is a Weissach example and the front combines light baby blue with an orange bumper and orange stripe running across the centre of the bonnet. Elsewhere, orange side skirts are featured alongside a plethora of other blue body panels and the obligatory carbon fibre components from the Weissach aerodynamics package.
Elsewhere, the car features bright green brake calipers as well as a set of impressive gunmetal grey wheels.
Importantly, production of the Porsche 918 Spyder ended in late June. That means that somewhere in the world, this 918 Spyder is living. We can't wait to see the first pictures of it on the street!