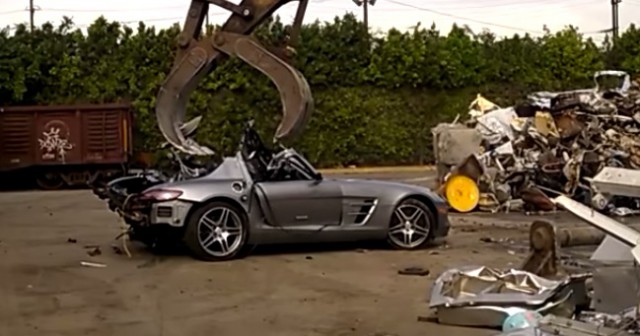 For car enthusiasts like ourselves, seeing any car crushed is absolutely devastating. After all, petrol heads all agree that cars are much more than a form of transport but rather vehicles with their unique personality and soul. There are few more soulful cars to launch in recent years than the Mercedes-Benz SLS AMG.
[youtube]https://www.youtube.com/watch?v=8ba-w5Pk6ho[/youtube]
In the United States recently, a seemingly perfectly good SLS AMG was crushed and left nothing but a crumpled mess of its former self. The story behind this SLS AMG's untimely demise isn't known but there's certainly a possibility it featured major mechanical damage or was perhaps seized by local authorities.
Whatever the case may be, the workers at the following junkyard had a worryingly good time crushing the expensive German sports car.
#sadface