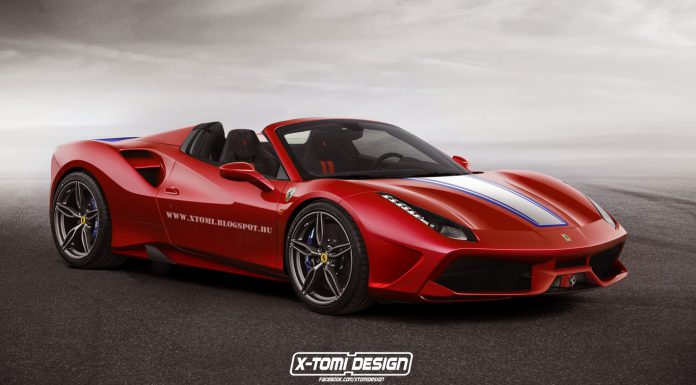 Not long after the Ferrari 488 Spider was revealed, X-Tomi Design has decided to render the latest Italian supercar in Speciale guise.
Considering that the Ferrari F430 Spider and 458 Spider were all eventually offered in hardcore, lightweight variations inspired by the 430 Scuderia and 458 Speciale respectively, it seems inevitable that whenever the 488 GTB is offered in Speciale guise, a Spider variation will follow soon after.
In creating the car, X-Tomi has installed the supercar with a new white and blue racing stripe. Additionally, enlarged and more aggressive air intakes can be found at the front alongside new side skirts inspired by the 458 Speciale.
As for the standard 488 Spider, it remains largely the same as the coupe. Consequently, it features a 3.9-litre twin-turbocharged V8 engine delivering 660 hp and 760 Nm of torque at 3000 rpm. The car can therefore sprint to 100 km/h in just 3 seconds flat.
In terms of aerodynamics, the Ferrari 488 Spider gets a blown spoiler and an aerodynamic underbody incorporating vortex generators. The electric glass rear wind stop can be adjusted to one of three positions for a blend of comfort and sensation. The Spider's space frame chassis is constructed from 11 different aluminium alloys for a 23% improvement in stiffness over that of its predecessor.
[Via X-Tomi Design]