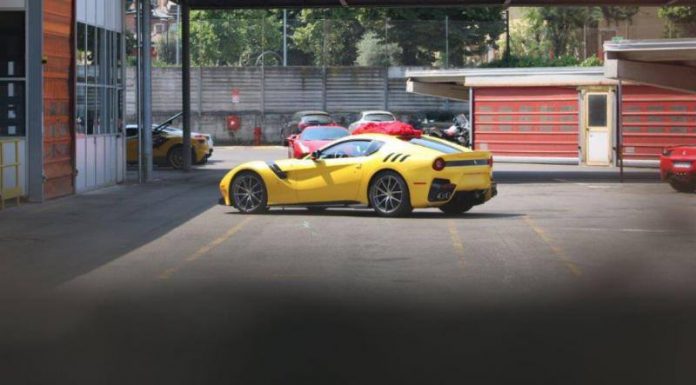 The 2016 Ferrari F12 Versione Speciale has been snapped ahead of its official debut at the IAA Frankfurt Motor Show 2015. The exclusive GT car will get its official debut at the Frankfurt Motor Show 2015 alongside the brand new Ferrari 488 Spider. Buyers have already had the privilege of seeing the Ferrari F12 Versione Speciale at the factory, now it is revealed for the very first time!
The pictures reveal a car which is very similar to the renderings we shared a month ago. The rear arches get vents, the rear gets a squarer look and there appears to be plenty of carbon fibre. The photo appears to have been shot over the wall of the factory in Italy during a brief moment when the car was uncovered.
The specifications for the Ferrari F12 Versione Speciale are not public knowledge. However, we hear that it will be a naturally-aspirated machine, powered by a 6.3-litre V12 engine. It will almost certainly produce around 800 hp, some are suggesting it could use the HY-KERS system developed for the LaFerrari. It should weigh approximately 1,415 kg thanks to a 100 kg weight reduction. Just 650 copies will be produced and should land on customers driveways in Spring 2016.
[Via Cavallino Rampante]