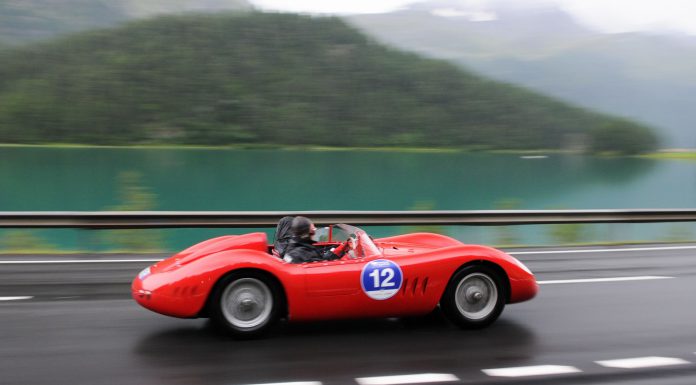 The "Passione Engadina" event series is planning to hold it's 4th reunion later this summer. The event, dedicated to the passion about Italian cars and the beautiful valley of Engadina in the middle of the Swiss Alps, is becoming more and more a jewel between the variety of automotive tours throughout the year in Europe.
GTspirit followed last year's edition which was dedicated to the Maserati (2013 had a focus on Lamborghinis). It was one of the few official events related to the Maserati Centennial celebrations.
On static display one could see a 1961 Birdcage next to a MC12GT1, just to name two cars. A big surprise was the visit of two Touring Maserati Quattroporte Bellagio Fastbacks. After all, just four examples of the car were ever created so seeing two at one event was quite incredible.
The program included a tour in the Alps over different passes. Among the participants you could find cars like a Pre-war Type 26M from 1928, post-war Maserati 200S prototype, Alfa Romeo Giulietta, different Lancias, a Lamborghini Miura P400, Ghiblis, De Tomaso Pantera, various Fiats, Lancia Stratos Stradale and more including a modern Alfa Roomeo 8C, Ferrari 599 GTO and a 2014 Maserati Ghibli S Q4.
This year's edition is focused on Ferrari and we're expecting a stunning line-up on the start. Last year had a Ferrari 250 GT SWB, 599 GTO, Enzo, 250 Spider Pininfarina and a 275 GTS just to name a few.