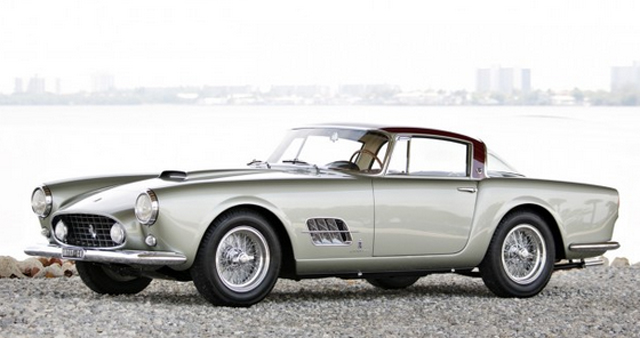 At Gooding & Company's Pebble Beach 2015 auctions, an exceptional 1957 Ferrari 410 Superamerica Series II Coupe is set to go under the hammer. Formerly owned by Princess Soraya of Iran, this particular car has won numerous awards and is expected to sell for between $5 million and $6 million.
Chassis number 0717 SA, this particular Ferrari 410 Superamerica Series II Coupe is the fourth of just six short-wheelbase Series II models ever created. It is also the 21st unit in the entire 410 Superamerica production run of just 34 examples.
The car was initially sold to Mohammad Shah Reza Pahlavi of Iran who gifted the car to Princess Soraya. Before buying the car, the two headed to the Ferrari factory to order and personalise the Italian sports car. One of the interesting customisations present on this 410 Superamerica is the specially designed seat for the tall Mohammad Shah as well as a custom-made cushion to allow the shorter Princess to comfortably drive the car.
The Princess maintained ownership of the car until 1967 when Tom Barrett III of Scottsdale imported the car into the United States. After passing through a number of different owners, the car was displayed at numerous Concours events many of which it won. More recently, the car received a Gold Award at the XII Palm Beach Cavallino Classic in 2003.
All funds raised from the vehicle's sale to benefit the Wayne and Marilyn Nelson Foundation.