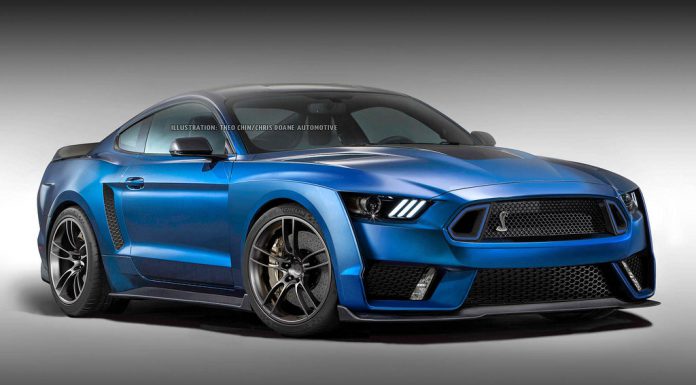 At the moment, the range-topping and most powerful version of the sixth-generation Ford Mustang is the Shelby GT350R. However in the coming years, it is inevitable that a GT500 version will be offered with even more power and a forced induction engine.
To give us an idea of how such a new Mustang Shelby GT500 could look, Theophilus Chin has created the following rendering. Looking notably more aggressive than even the GT350R, the car pictured includes a completely revised front fascia with a new splitter, air intakes as well as squared-off front wheel arches.
Elsewhere, a new set of twin five-spoke wheels have been fitted while extended side skirts also help to catch the eye. Other changes include a beefed up bonnet with a subtle power dome, a menacing bootlid lip spoiler as well as a modified rear bumper.
Powertrain wise, there's a possibility that the new Mustang GT500 could feature a supercharged V8 with around 700 hp but the 3.5-litre twin-turbocharged V6 engine of the brand new Ford GT is shaping up to be the most likely source of power. While horsepower and torque figures for this engine in the Ford GT haven't been revealed, there's every possibility that the new Mustang GT500's engine will produce exactly the same as the GT. As a result, over 600 hp is expected.
Unlike the Ford GT, the new GT500 will be offered solely with a six-speed manual transmission rather than a dual-clutch system like the GT.
Elsewhere, the new GT500, expected to come as a 2018 model year vehicle, will likely draw on the GT350 and GT350R in its use of suspension and braking components. Additionally, a number of downforce generating aerodynamic parts found on these track-oriented Mustang variants could be carried over for the GT500.
[Via Theophilus Chin]