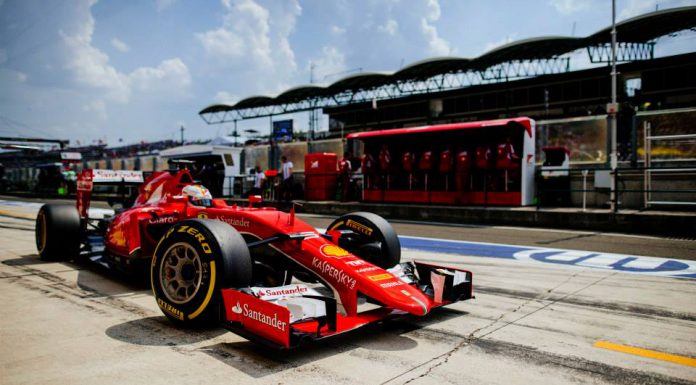 Sebastian Vettel has won a thrilling Hungarian Grand Prix after leading from start to finish. Red Bull won the two remaining podiums with Daniil Kvyat winning his first career victory in P2 and Daniel Ricciardo taking P3 even after a last minute collision with Rosberg. The Mercedes team failed to score any podium wins this weekend even after starting in the front row – a series of incidents encountered both Hamilton and Rosberg denying them any podium victory.
McLaren is all in smiles today after finishing within points zone with both cars – Alonso finished in P5 while Button finished in P9. Young Max Verstappen finished in P4 for Toro Rosso, which is the best finish in his career so far.
This weekend drivers paid their respects to Jules Bianchi by having a message on their cars and helmets. Before the race kicked off, there was a moment of silence with drivers forming a ring with hands on Jules Bianchi's helmet. The family of Jules was in Budapest as well.
All drivers started on soft tires apart from Lotus' Pastor Maldonado. Lewis Hamilton was vying for his fifth win which would make him the driver with the most number of wins at the Hungarian Grand Prix. Elsewhere, McLaren missed out of qualifying due to technical issues and had to start from the near bottom of the field. Noteworthy, the team has the highest number of F1 wins at 11 in this circuit – their last win was in 2012.
Soon as the lights went out Ferrari's Sebastian Vettel managed to jump both Mercedes to take the lead. Kimi Raikkonen joined his teammate to take P2 while Nico Rosberg despite having a good start lay in P3. Hamilton went off at Turn 6 thereby dropping to tenth place on the grid. With five laps into the race, Vettel led the field away from Raikkonen, Rosberg, Williams Valtteri Bottas, Force India's Nico Hulkenberg, Red Bull's Daniil Kvyat and Daniel Ricciardo.
"You're only allowed to move once," said Hamilton over the radio in regard to Rosberg, the Brit was currently running in P10 with seven laps gone. Despite having a fast car, this is a hard circuit to overtake in and Hamilton was experiencing just that. Meanwhile, the McLarens had gained two positions each, Alonso was running P13 with Button close behind him.
"Don't tell me again, don't tell me again. I'm trying." That was Rosberg over the radio telling his engineers who on the other hand were asking him to close the gap between him and Raikkonen. Vettel was 7 seconds ahead of Rosberg and 30 seconds ahead of Hamilton who was now in P9 after passing Williams Felipe Massa.
The first pit stops came around on lap 15 allowing Hamilton to climb up the field a little more to P5. His pace had increased placing him 5 seconds below Ricciardo who was running P4. The Ferraris had a faster pace, separated by 2 seconds but 9 seconds from the rest of the field which began with Rosberg in P3. Raikkonen then reported loss of his front wing. Meanwhile, Hamilton pitted for soft tires followed by Rosberg who picked up a set of medium rubber.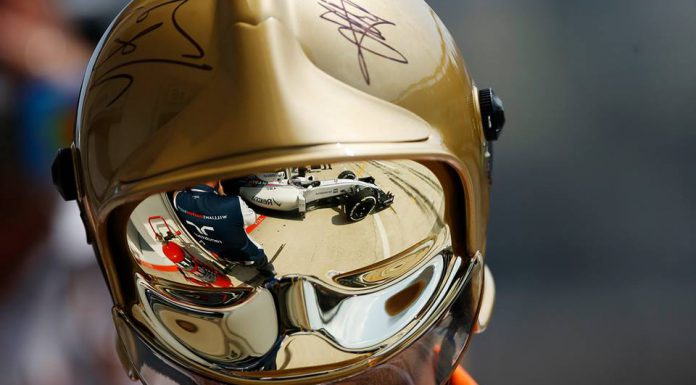 Vettel also pitted from the lead in what was a good stop as the German managed to stay in the lead. Raikkonen also pitted but his wing was not replaced, instead the Finn picked up new soft tires. Lotus' Grosjean was handed a five-second penalty for unsafe release in the process. Elsewhere, an incident had developed after Maldonado hit Perez's Force India car, he was handed a drive-through penalty for causing the collision.
"Come on, this is crazy. I did hit, but…" echoes Maldonado after serving his drive through penalty. Alonso meanwhile jumped into P10 for McLaren afer taking advantage of the Perez-Maldonado incident. Hamilton made his final attack on Ricciardo after reaching the DRS zone, the Brit took P4 and was 16 seconds below Rosberg who was in P3. The Ferraris were still edging away from the field.
Halfway into the race Vettel led the field away from Raikkonen with a 9 seconds gap between them. Rosberg sat in third and was running slower than Hamilton who was slashing his way up second by second – the Brit was only 5 seconds behind his teammate. Alonso had to pit from P9 due to a rear wheel puncture, he rejoined the race in P10. Raikkonen then reported a problem with his MGU-K unit, he was now losing time as a result.
The virtual safety car was brought out after Hulkenberg drove his Force India into the barriers on Turn 1. Elsewhere, Rosberg and Hamilton pitted for medium tires followed by a few more drivers. Moments later the Ferraris pitted too and picked up medium tires, Ricciardo was now on soft tires and in P5. The real safety car was later brought out due to the Hulkenberg incident.
Soon as the safety car disappeared, Vettel took the lead as Raikkonen struggled with his maimed power unit. Rosberg cashed in on Raikkonen's condition and took P2, behind them was Hamilton and Ricciardo fighting for P3, unfortunately they made contact and both had to slow down. Hamilton went into the pits with a damaged wing, Ricciardo fought on and managed to take out the slow Raikkonen for P3.
Vettel led Rosberg with only 1.1 seconds separating the two, the McLarens on the other hand were within the points zone as Alonso climbed to P9 and Button to P10. The Red Bulls were on fire as Kvyat passed Raikkonen for P4. The Finn had to pit again, he emerged on a set of soft tires. Hamilton on the other hand was given a drive-through penalty for causing the collision with Ricciardo – who was now in P3 and catching up with Rosberg and Vettel as he had a faster tire!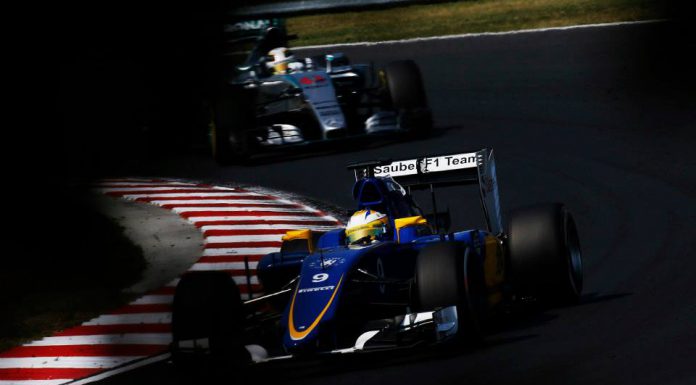 And the thrill was not over! In the process of trying to get into P2, Ricciardo hit Rosberg who was in turn closing in on Vettel. Rosberg suffered a puncture while Ricciardo took front wing damage on his car. Rosberg limped back to the pits and emerged in P10, Ricciardo managed to rejoin the race in P3 even after the incident. Hamilton moved up to P6, Alonso improved to P5 – a very exciting race for McLaren – while Button lay in P8 with only two laps left.
There was no further action taken for the Ricciardo-Rosberg incident after investigation was completed.