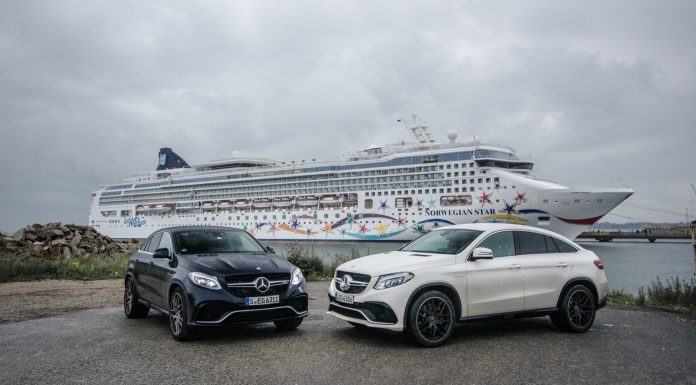 Mercedes-Benz is a brand that is constantly working to expand and create vehicles for every consumer's demands ranging from tractors, lorries and Unimogs to hardcore track honed speed machines like the SLS AMG Black Series and recent AMG GT. Where these examples are defined in their own rights, there are also overlaps such as a small family hatchback that is equipped with 376 horsepower like the A45 AMG.
These are automobiles that are based on everyday cars and require the attention of performance house AMG to extract the most from the propositions at hand. The latest niche is presented in the form of a sport utility coupe, a niche in itself, that then had a mammoth 5.5-liter V8 wedged under its bonnet to create the 577 horsepower Mercedes-AMG GLE63 S Coupe. We had the chance to put the latest creation from AMG when taking part in the MBPolarSun tour.
The 5.5-liter V8 sounds familiar? Indeed, it is a unit that we have seen on a number of occasions before. After the 6.2-liter V8 was phased out in the name of being green, the bi-turbo 5.5 took its place and featured in cars including the E63 AMG S that we loved so much as well as the S63, G63, SL63 and many more AMG variants. Despite weighing in at just under 2.5 tonnes, the performance figures attributed to the GLE63 S are nothing less than extraordinary. 577 horsepower combined with 560 lb-ft between 1750 and 5250 rpm means the Coupe will muscle and snarl its way to 100 km/h (62 mph) in just 4.2 seconds. As with the majority of German manufactured vehicles, the top speed has been limited to 250 km/h (155 mph).
One factor that is pivotal to the car's fearsome speed is the gearbox, something that was always a drawback with previous AMG cars. Both the GLE63 and AMG S have been equipped with AMG's very own seven-speed 7G transmission driving the 4Matic all-wheel drive system which sends 40 per cent of the power to the front and 60 per cent of power to the rear wheels. We are pleased to report that this tweaked and re-worked gearbox is a vast improvement over previous attempts. Downshifts are quick and are delivered in quick succession on demand without the hint of a frustrating delay.
The car's characteristics are controlled via the 'Dynamic Select' knob in the centre console that ranges from Comfort, Sport, Sport+, Slippery Road and Individual. These control the air suspensions stiffness, gearshift aggression, throttle response, steering weight and exhaust note. The differences between the modes are substantial and tangible in the driving experience and feel. The GLE63 S wears a set of awesome and gigantic 22-inch wheels, in Comfort the ride manages to stay relatively calm and compliant. In Sport and Sport+, the ride quality certainly deteriorates, however, it is sacrificed in order to keep body roll to a surprising minimum.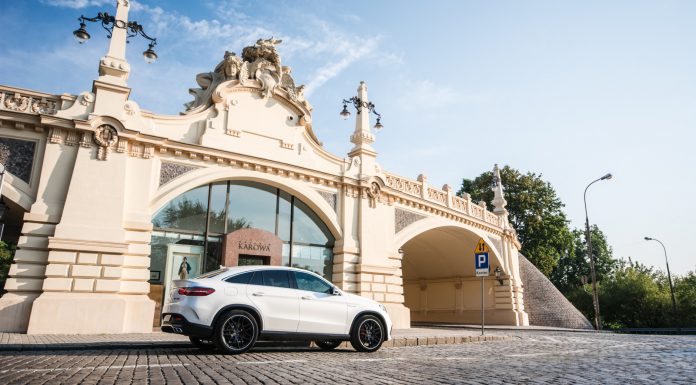 The driving experience is one that we will be sure not to forget anytime soon. We woke up at dawn one morning in Poland and had the chance to test the handling characteristics on some twisty rural roads. Gaining speed is certainly no issues for the car as it hauls its heavy body with great ease and revs effortlessly. Turbo lag is almost absent.
As you push on, it becomes apparent that grip is tenacious as the hilariously wide tyres cope well with the surge of torque and hefty weight. Some acutely angled bends come into sight and it was time to see if the dustbin-lid sized brakes had enough strength to control two tonnes of German muscle. The pedal is fairly long and we were required to push deep only to be pleasantly surprised that we had to be caught by the inertia reel seat-belt that stopped us from headbutting the squishy AMG steering wheel. Another box surprisingly ticked by the GLE63 S is its trick engineering. When really pushing around tighter bends there is a hint of understeer but this only creeps is when driving on the limit.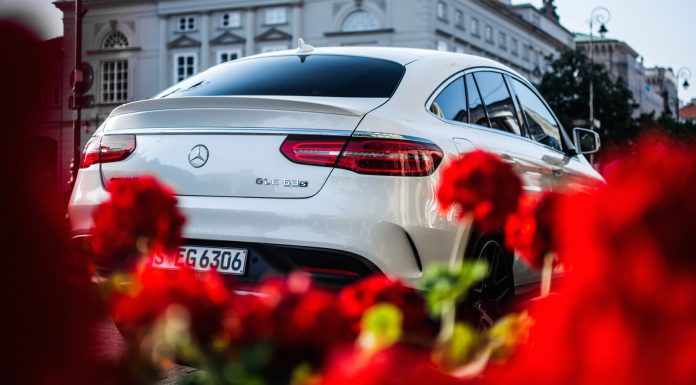 We had collected the car from Munich in the heart of the land of speed, Germany. This meant unrestricted stretches of Autobahn would be at our disposal. We engaged Sport+, hit M for fully manual shifts and peeled into the fast lane on the smooth tarmac. The view ahead stretched into the horizon only being obstructed by shimmering heat haze and the optical illusion of a soaking wet road. We glued our right foot to the floor and the car pulled so hard the front end pitched like a jumbo-jet on takeoff. We pulled for another gear and the four tailpipes spat fuel like a venomous snake that treated us to a cacophony of splatters, pops and bangs. Into fifth gear and we struggled to keep up with the speedometer that swung to the 250 km/h limiter unbelievably quickly. Stability at vmax was astonishing and the mass remained incredibly composed.
Steering feel, as with the majority of cars produced in the last year, is certainly lacking. However, it was light and we never had to strain to reach full lock. When driving around town, the size of the car was slightly intimidating and took some getting used to. Navigating narrow parking garages made us squirm on a number of occasions. Visibility is a limited through the rear window and blind spots were an issue that, again, took getting used to. When parking and maneuvering in tight spaces, we would have been dumbfounded if it was not for the seemingly endless choice of camera angles we could display on the very clear screen.
The interior of the GLE63 S is nothing short of plush. We drove two cars, one equipped with carbon dash inlays and the other with unpolished dark wood. Both interiors were very well put together and the interior ergonomics were fantastic. With the sloping coupe roof however, rear headroom became an issue with taller passengers.
The navigation system has not been vastly improved over previous generations but is very easy to use and follow. Massage seats, heads up display and a huge array of other options are available to make long journeys more comfortable. Adaptive cruise control, as with all other Mercedes-Benz models we have tested, was very useful and is strongly recommended to anyone that is looking to purchase a Mercedes-Benz.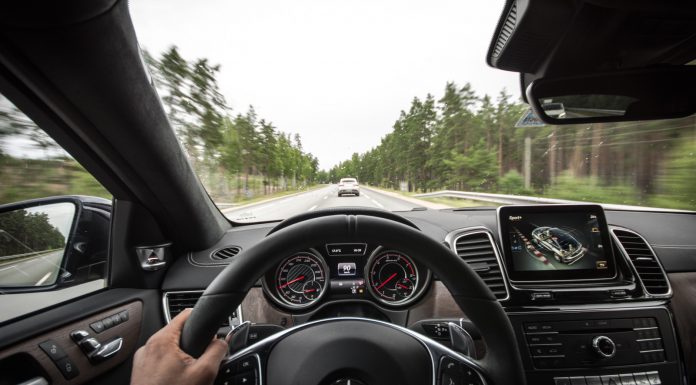 As entertainment goes, the GLE63 S certainly is one of the more entertaining cars in the segment. The ability to hit the gas and build speed whilst being treated to the awesome AMG soundtrack never got tiresome or boring. That being said, as a drivers car it will always be difficult to justify building such a large car and giving it such menacing power. It is recipe to be admired from an almost childish stand point.
From an engineering point of view it also impresses, but there is always a feeling in the back of ones mind that as a driver's car it should not exist. But then you find an open stretch of tarmac at dawn and get to listen to the burbles and rumbles whilst shifting through the fantastic gearbox and the dark magic of AMG splatters the criteria of justification away like it does raw fuel from its exhaust pipes, launching you towards the distant heat haze grinning and giggling without a care in the world – the true essence of AMG.