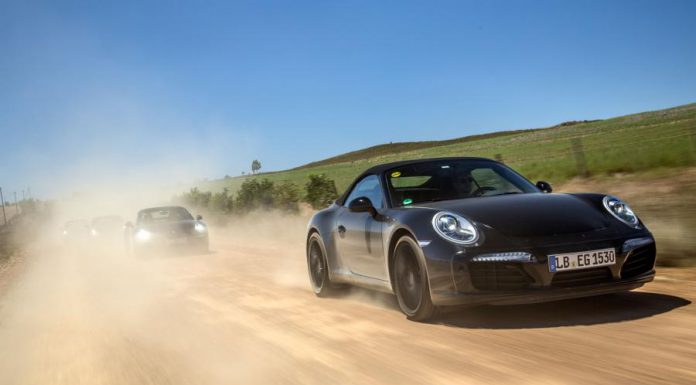 Just a few days after Porsche unveiled a plethora of images of the facelifted 2016 911 testing in South Africa, new information about the powertrain set to powered Carrera badged models has emerged.
As it stands, the Porsche 911 Carrera and Carrera S use a 3.4-litre naturally-aspirated six-cylinder and 3.8-litre six respectively. However, as part of the 911 range's shift to turbocharged power, both models are set to a receive a new 3.0-litre turbo six delivering around 370 hp in the 911 Carrera and 420 hp for the Carrera S. Those figures each represent a 20 hp bump over the current Carrera and Carrera S models. Torque for the Carrera S will also reportedly reach 369 lb-ft which is a 44 lb-ft jump over the outgoing car.
Beyond providing more power and torque, a key reason why Porsche is switching to turbo'd engines is for the improved fuel consumption and decreased C02 emissions. While it remains to be seen just how much more efficient the 3.0-litre turbo six will be, we expect to see some significant improvements.
In terms of acceleration, the facelifted 911 Carrera is predicted to sprint to 100 km/h in around 4.3 seconds with the PDK transmission. Meanwhile, the Carrera S should complete the same sprint in around 4 seconds.
Visually, slightly modified headlights will be featured alongside slimmer LED daytime running lights. Additionally, modified air intake slats will be found at the front-end. Other small visual changes will include new wing mirrors while the rear will adopt custom taillights and new cooling slats on the decklid.
The 2016 Porsche 911 range is expected to be unveiled at the IAA Frankfurt Motor Show 2015 in September.