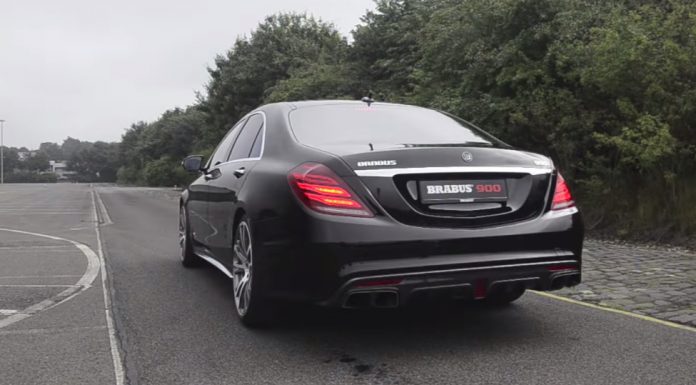 Unveiled at the Geneva Motor Show back in March, the Brabus Rocket 900 is the most extreme car the German tuning firm has ever created. As the following videos show, the car is capable of some truly exceptional performance.
[youtube]https://www.youtube.com/watch?v=0xrET8cLViI[/youtube]
For starters, Brabus focused extensively on the Rocket 900's engine to ensure it delivers as much power as possible. With that in mind, the 6.0-litre V12 engine of the Mercedes-Benz S65 AMG has been outfitted with a custom Brabus billet crankshaft complete with a longer stroke and larger cylinder bore. As a result, capacity has increased to 6.3-litres.
Additionally, the Brabus Rocket 900 features larger pistons as well as turbochargers featuring larger compressor units and a larger turbine. Elsewhere, 80 mm downpipes have been installed alongside modified exhaust manifolds. A new air intake system is also found on the Brabus Rocket 900 with it drawing in cold air directly from the radiator and front grille. The new intake manifold also features gold heat reflection to ensure it always provides maximum power in even the hottest conditions.
[youtube]https://www.youtube.com/watch?v=yVxlbIn1krM[/youtube]
The result of all this engine work means the Brabus Rocket 900 delivers 900 hp (as the name suggests) at just 5500 rpm. Additionally, torque has been upped to 1106 lb-ft at 4200 rpm but that has been electronically limited to 884 lb-ft. All of this power is funnelled through the rear wheels through a beefed up seven-speed automatic transmission and a limited-slip differential at the rear. All told, the Brabus Rocket 900 will accelerate to 100 km/h in a mere 3.7 seconds, 200 km/h in 9.1 seconds and a top speed in excess of 350 km/h. Brabus has also installed the Rocket 900 with its AirMatic Sport suspension system which drops the ride height by 15 mm without compromising the ride quality.