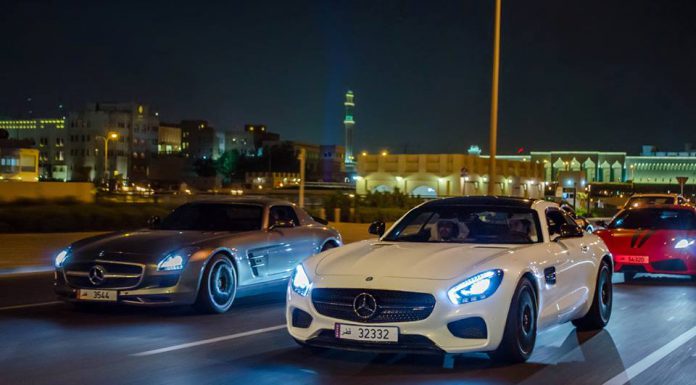 As we know all too well, the Middle East is home to some of the world's most exclusive, expensive and fastest supercars and hypercars. Alongside the likes of Dubai, Abu Dhabi and Riyadh in Saudi Arabia, there are countless number of exotics frequently cruising the streets of Qatar. Recently, the Qatar Elite Supercar Club held an awesome night time cruise where some of the nation's finest cars turned out in their droves.
[youtube]http://www.youtube.com/watch?v=rhC910TFVBc[/youtube]
Arguably the most exciting car of the 12 to participate in the cruise was a stunning Lamborghini Murcielago LP670-4 SV. Of course, it was far from the only memorable car which took part as a matte green Ferrari 458 Italia also raised eyebrows in the only way a mid-engined Ferrari can do.
Other highlights included a yellow Mercedes-AMG GT, Ferrari 430 Scuderia, Mercedes-Benz SLS AMG, two Aston Martin V8 Vantages, a Maserati GranTurismo MC Stradale, Aston Martin DBS and a handful of others including a matte black and blue wrapped 458 Italia.