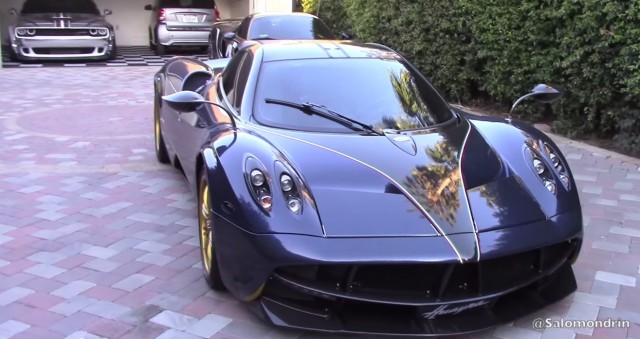 Just after taking delivery of a Porsche 911 GT3 RS 4.0 and a Porsche Carrera GT, prolific car collector and GTspirit Owner's Club member Alejandro Salomon has released a video overviewing his bespoke Pagani Huayra 730S Edition.
[youtube]https://www.youtube.com/watch?v=Wd-Tqr472rI[/youtube]
Generally speaking, the design of the Huayra 730S Edition was inspired by the strictly limited Pagani Zonda Tricolore. Consequently, it features a complete carbon fibre body most of which is finished in blue tinted carbon. Additionally, it includes hand painted Italian flags stretching from the front of the bonnet right to the rear. It also roles on a set of eye-catching gold wheels.
In case you've ever wondered why the car is dubbed the 730S Edition, it's mainly because Alejandro wanted it to be considered a one-of-one Huayra meaning other Pagani owners wouldn't be able to duplicate its eye-catching design.
Beyond the blue exterior, the 730S Edition features an incredible blue leather interior with the blue stretching across the seats, steering wheel, dashboard and parts of the door panels.