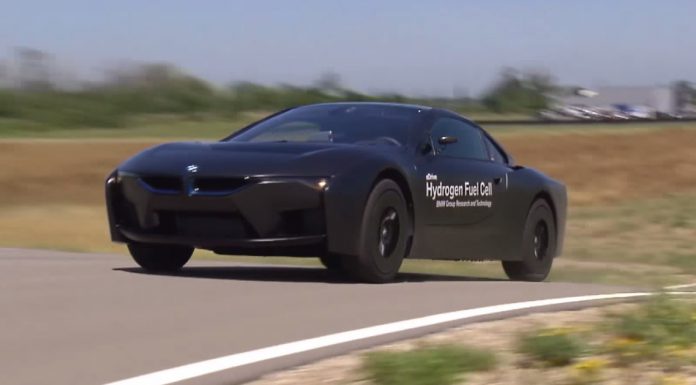 Not long after BMW revealed the first official photos and details of its i8 based Hydrogen Fuel Cell Prototype, a video of the car testing has been released. Sounding more like a small jet aircraft than a car, the test mule provides a glimpse at an ultra-efficient new form of propulsion from the German automaker.
[youtube]https://www.youtube.com/watch?v=DFpxVCtMvB4[/youtube]
Interestingly, development of this research vehicle started in 2012 and while technical details are limited, the car has ditched the i8's three-cylinder at the rear in favour of its efficient fuel stack. That fuel stake provides electricity for an electric motor also mounted at the rear. All up, the car delivers 242 hp and emits only water vapour.
While the prototype is based around the BMW i8, it features a completely bespoke body made from carbon fibre and developed in the automaker's wind tunnel. Compared to the i8, it features much more aggressive lines with the front end noteworthy for its redesigned kidney grille and slimline headlights
Squared front wheel arches are also present as are extended side skirts and an outlandish bonnet. Beyond the exceptionally aerodynamic wheels, the hydrogen fuel-cell prototype features a completely bespoke rear end. Compared to the 'regular' BMW i8, the car pictures has been fitted with a custom rear window, fascia and taillights. Similarly square wheel arches to the front are also found at the back.