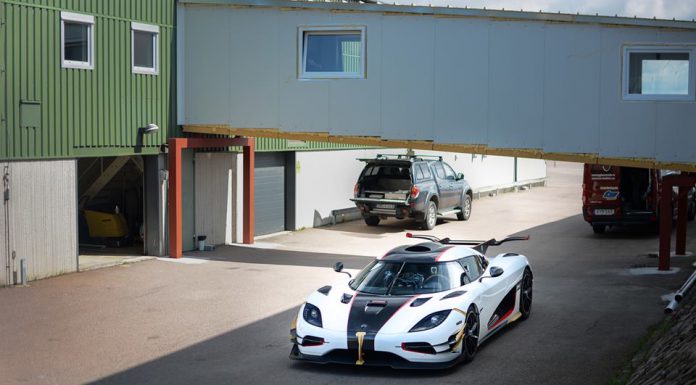 The seventh and final Koenigsegg One:1 has just rolled out of the Swedish automaker's production facility in Angelholm, Sweden.
As the following image shows, the final One:1 is just like all the others; completely unique. It features a body dominant by gloss white. Carbon fibre canards are also featured as is a carbon front splitter, roof, side skirts, roof, bonnet and rear wing. A number of bright red accents are also found across the exterior of the hypercar.
Interestingly, just six production examples of the Koenigsegg One:1 have been produced. However, demand for the car was high enough to prompt Koenigsegg to even sell the initial test vehicle finished in silver and bringing the total production number up to seven units.
Beneath the skin, the Koenigsegg One:1's twin-turbocharged V8 delivers 1341 hp and 1371 Nm of torque. When combined with an overall weight of just 1341 kg, the One:1 features a perfect 1 hp to 1 kg power to weight ratio. The only other production car to achieve such a figure is the Hennessey Venom GT.
Last month, the car set a new world record for the 0-300-0 km/h sprint completing the feat in a mere 17.95 seconds.
[Via Westbroek Carspotting]