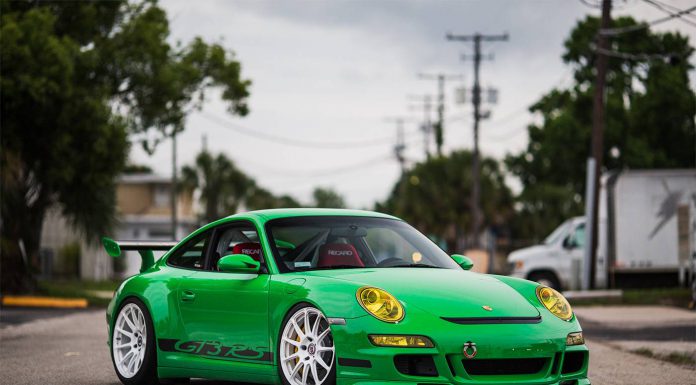 Precision Sport Industries recently held a photoshoot, featuring a green Porsche 997 GT3 RS. The car, labelled the "Jolly Green Giant", has been fitted with white HRE Wheels.
The Porsche 997 GT3 RS was released in 2006 and belongs to the 911 GT3 series. These are high performance variants of the 911 and more than 14,000 such cars have been sold since the introduction of the series in 1999.
The production of the second generation 997 GT3 RS commenced in 2009 and the last model came up in 2011. It featured a 4.0 litre flat-six motor, which is the largest engine offered in a street-legal 911. The 997 GT3 RS 4.0 produced 500 hp and 460 Nm of torque. It could sprint from 0 to 100 km/h in 3.9 seconds with an electronically limited top-speed of 311 km/h. A six-speed manual transmission transferred the power to the rear wheels of the car.
Precision Sport Industries is Central Florida's largest and most popular BMW specialist shop. The company came up in 2008 and assures services and products for all kinds of BMW vehicles. Its partners include 3D Design, Akrapovic, Active Autowerke, Eisenmann, and Macht Schnell.