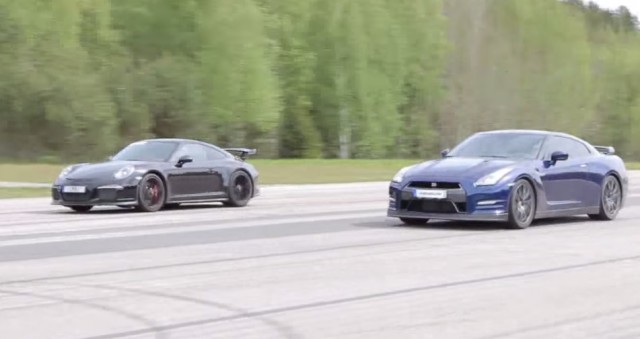 Off the line, the Nissan GT-R is almost unbeatable by anything else on four wheels. As the following video shows however, the GT-R is pretty much perfectly matched by the latest Porsche 911 GT3 from a rolling start.
On paper, the 3.8-litre twin-turbocharged V6 engine of the GT-R pumps out 550 hp in 2015 specification. By comparison, the 911 GT3 delivers 'only' 475 hp. The GT-R also has 142 lb-ft of additional torque over the GT3. With all this being said, the GT3 weighs over 300 kg less than the GT-R more than making up for its horsepower and torque deficits.
[youtube]https://www.youtube.com/watch?v=1oeTMuqNQvw[/youtube]
In the following clip, the two sports cars featured are completely stock and equally matched for a large portion of the race. As the speeds increase however, the additional horsepower of the GT-R takes hold as it begins to creep in front of the rear-engined and rear-wheel drive 911 GT3.
While the final result isn't surprising, the race is certainly worth a close watch!