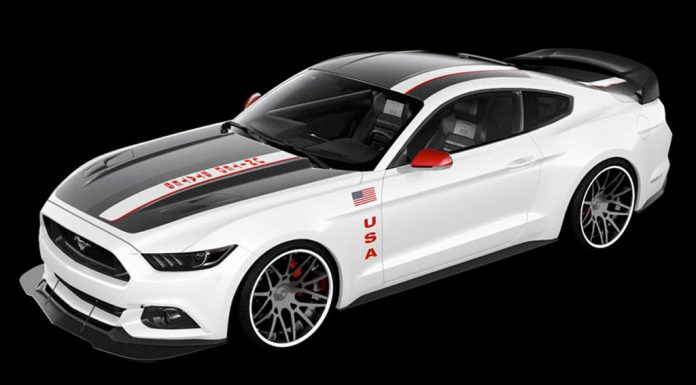 Each year in Wisconsin, the EAA AirVenture convention is held. Bringing together a plethora of different aircraft, the convention also attracts a special Ford Mustang edition each and every year.
For the 2015 event, the Ford Mustang Apollo Edition has been revealed and once again, it will be auctioned off to a lucky attendee at the convention. The design of the car was led by Ford designer Melvin Betancourt and as with previous Mustangs unveiled at EAA AirVenture, it includes a selection of bespoke elements to ensure it stands out from the typical sixth-gen Mustang.
For starters, the Mustang Apollo Edition is painted in white and black and combines a range of gloss and matte panels. Additionally, a prominent carbon fibre front splitter has been fitted as has a bold rear diffuser and new rocket panels.
[youtube]https://www.youtube.com/watch?v=mwSPhLBXsXs[/youtube]
Elsewhere, a rear wing reminiscent of the Shelby Mustang GT350R has been fitted. Also included are a set of custom wheels while the interior includes performance gauges, custom sill plates and a new instrument cluster. Red brake calipers are also found.
Arguably of most importance is the fact that the Mustang GT's 5.0-litre V8 has been supercharged and now pumps out 627 hp and 540 lb-ft of torque. A new exhaust system has also been installed as have Brembo brakes.
Discussing the car, Edsel B. Ford II said "The Ford Apollo Edition Mustang salutes man's greatest technological achievement, with the ingenuity, precision, and power that defined the spirit of American innovation. Inspired by the Apollo program, Ford Motor Company committed itself to including exhilarating power, cutting-edge technology, and extraordinary craftsmanship in this automobile, which will support the next generation of pilots in EAA's aviation education programs for young people."