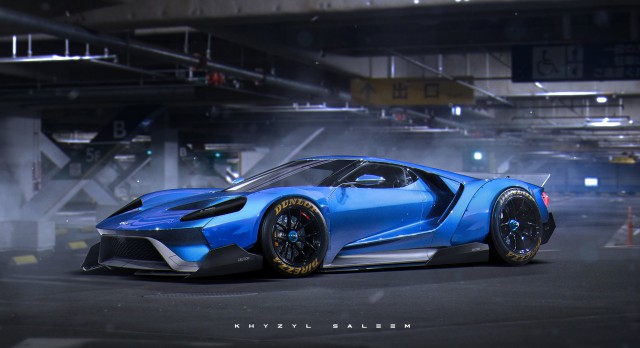 The design of the 2016 Ford GT certainly isn't something that anyone could call bland or boring. Instead, the new GT has garnered a lot of attention and praise for its outlandish design. Designer Khyzyl Saleem however, has decided to take things to an entirely different level by rendering the latest and greatest American supercar with a Liberty Walk widebody kit.
Consequently, the car features flared front and rear wheel arches which simply screw into the stock fenders of the Ford GT. Complementing the new arches is a lowered suspension system as well as black wheels wrapped in sticky Dunlop rubber.
Final points of difference between Saleem's creation and the rear 2016 Ford GT is a prominent decktail bootlid spoiler, extended side skirts and a ludicrously in-your-face front splitter and bumper package.